BUY MY BOOKS | HOME | FICTION | ESSAYS | ON-LINE DIARY | MARGINALIA | GALLERY | INTERACTIVE FEATURES | FAQ | SEARCH ENGINE | LINKS | CONTACT
www.ralphrobertmoore.com
the official website for the writings of
ralph robert moore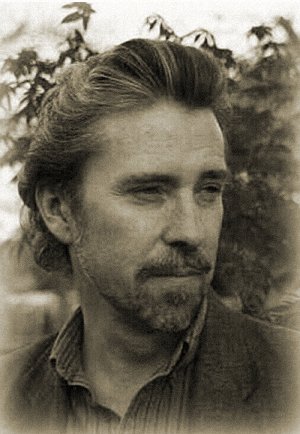 Ann McGillis' rewrite is copyright © 2001 by Ann McGillis.
Return to every man a king.


every man a king
---
ann mcgillis' rewrite
My skin was sticky and hot that day of the heat wave, back when we lived in Maine. We dipped our toes in the Long Lake and wriggled them to see if it would help to escape the heat. It was no use, not unless you went out deep where the water was always cool. Steffy nor I wanted to go in deep, because Father told us to keep an eye on Billy. He 'needed looking after, he's only five'.
I remember looking up at the clouds as if they were going to explode, and they did. We saw sheets of rain coming towards us in the gloaming light and still warm air. It started out with the normal patter of drops coming down from the dark clouds, from the dome of thunder, lightning, and filtered sunshine.
Where the flag by the boathouse had idly spoken of it's freedom and liberty, seeming as used up as a stringless guitar, now whipped at the flagpole in the wind and thrashed at the threatening raindrops.
I was glad we ate before the rain started, even though it was only warm potato salad and ham on rye bread. I liked the Pepsi in the bucket because we kept it cold with water and ice, but Steffy drank most of it. If we had waited, we wouldn't have had supper at all.
Ann McGillis may be reached at solo_juice@hotmail.com
read next rewrite
go back to previous rewrite
---
YOUR REWRITE