BUY MY BOOKS | HOME | FICTION | ESSAYS | ON-LINE DIARY | MARGINALIA | GALLERY | INTERACTIVE FEATURES | FAQ | SEARCH ENGINE | LINKS | CONTACT
www.ralphrobertmoore.com
the official website for the writings of
ralph robert moore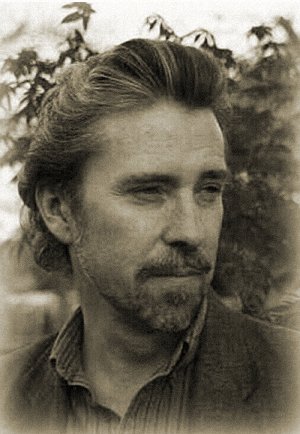 Jenny Armstrong's rewrite is copyright © 2001 by Jenny Armstrong.
Return to every man a king.


every man a king
---
jenny armstrong's rewrite
This is exactly how it happened: The American flag my father had put up stood mute and resigned. Nothing moved at all, not even a hem of it. The boat house, the long lake, the three of us were dry-scalded under the immense heat.
My father had put up the flag in 1936. Now it waited-- as if for eternity. Its hoist a stark and solitary structure Billy couldn't climb-- for he was only five, its stars sagging stupidly against a very shallow blue pool, reminiscent of ice in buckets-- a lake with Pepsi in it. Yet its stripes were like bologna sandwiches, for they lay heavily, too, exactly like the stars, unable to resist the heat that beat down upon our stinging, sweating eyes, that intolerable Western Maine evening of June 19. We were hungry but we could not eat, would barely drink the Pepsi of our patriotism, which had presented us, Steffi and I, with such stinking heat to test our wills.
Then, as we looked-- it was 5:30-- the Northern New England heat wave broke: We were looking up, when the winds broke the drooping vestige clear off its pole-- and tossed it violently into our lake.
The heat wave broke-- but it was too late to go swimming.
Jenny Armstrong may be reached at scratchy@mail.dodo.net.au. Her website is at Unique African. There's some great writing there. Check it out.
read next rewrite
go back to previous rewrite


---
YOUR REWRITE