both with firm handshakes
---
january 1, 2012
This will be a shorter Lately than most, simply because the past month has been rather hectic. (For one thing, our dishwasher decided on its own a few days before Christmas to also start washing our kitchen floor.)
We've been buying buttermilk for about six months now.
We never use it. We leave it in its original container in the refrigerator until it's past the expiration date (often quite a bit past its expiration date), then throw it out. Glug, glug, glug down our stainless steel kitchen sink.
Sometimes, if it's just a week past its expiration date, I hesitate to throw it out. After all, the container's never been opened. So I'll uncap the top, take a sniff. The thing is, though, how can you tell when buttermilk has gone bad? It always smells like it's turned.
We kept buying buttermilk to try a new fried chicken recipe.
Mary ordered a fried chicken kit from Williams-Sonoma. The kit was the same preparation used at "award-winning Chef Thomas Keller's Napa Valley restaurant."
You get a packet of seasonings to use to brine your raw chicken pieces (and it did smell wonderful), plus a bag of seasoned flour. After the chicken pieces sit in the brine for twelve hours, you wash them off under the faucet, dry them, roll them in the seasoned flour, roll them in buttermilk, then back in the flour again.
And deep fry them.
They actually turned out really well. We'll have them again.
Speaking of food (and aren't I always?) I discovered what to me is an absolutely charming site, The Los Angeles Public Library's archive of California menus from times past. The archive consists of JPG images of the actual menus, so they really evoke their era.
For example, here's the first page of a menu from A. Sabella's Capri Room in San Francisco: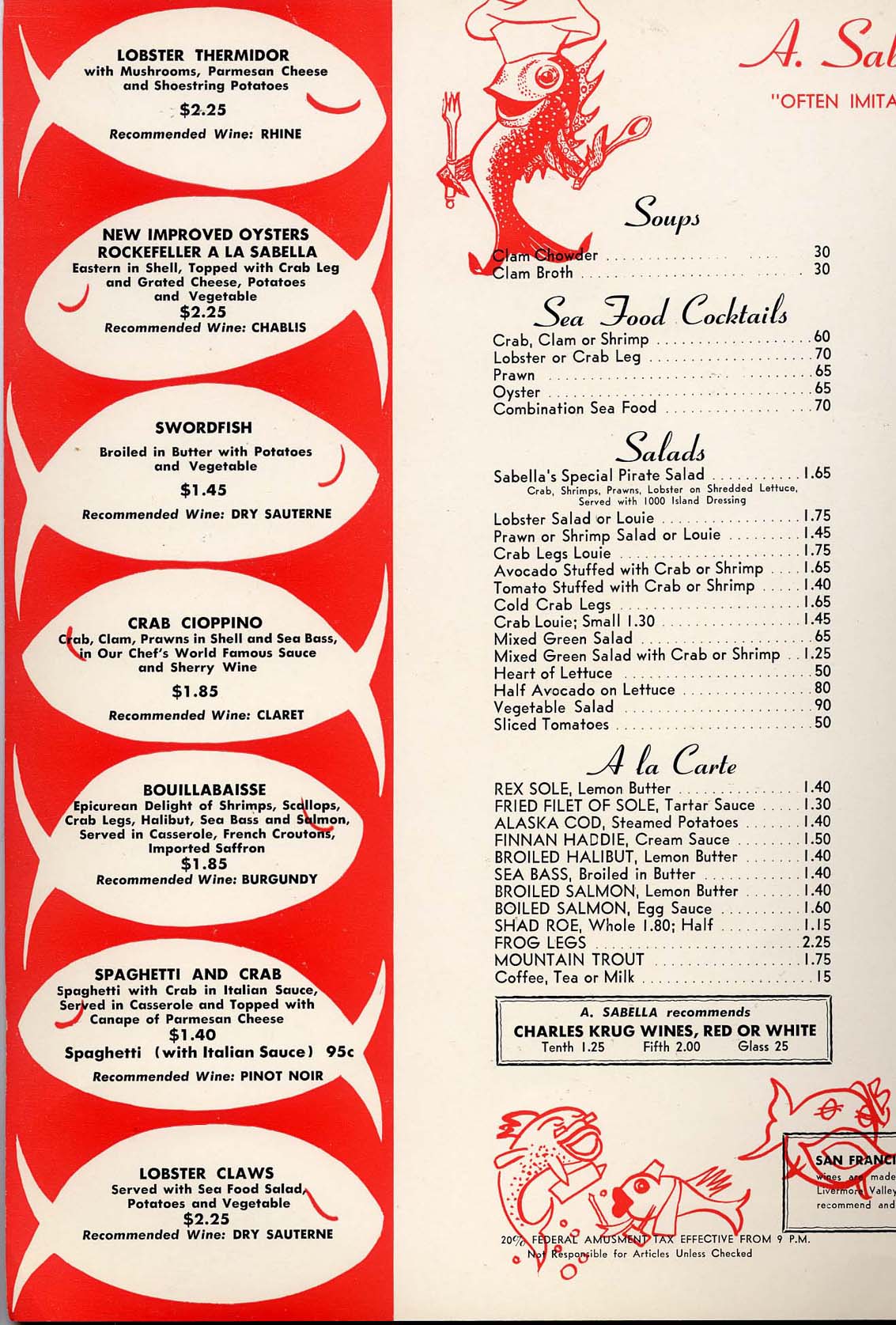 First thing I noticed, of course, were the prices. Lobster Thermidor (which, sadly, you don't see on menus too often these days) at two dollars and twenty five cents; shrimp cocktail for sixty cents; and Sabella's Special Pirate Salad, which includes crab, shrimp, prawns and lobster, for only a dollar and sixty-five cents. For that price, I'd even be willing to have it served with its thousand island dressing. (Given the low prices for everything, I assumed this was a menu from the forties, but actually, when I checked, I saw it's from the sixties.)
Surprisingly, the most expensive item on this page of the menu is not the lobster claws, or Thermidor, or broiled halibut, but frog legs (two dollars and twenty-five cents.) Were frogs really that hard to catch back then? (I know they can hop, but even so.)
An odd thing I did notice on the menu, under Soups, is that clam chowder and clam broth both cost the same amount (thirty cents.) So the clams, cubed potatoes, etc. served with the chowder are essentially free?
I was curious about even older restaurants, so I did a search and located this menu from June, 1924 for Bell's, located in Sacramento, California: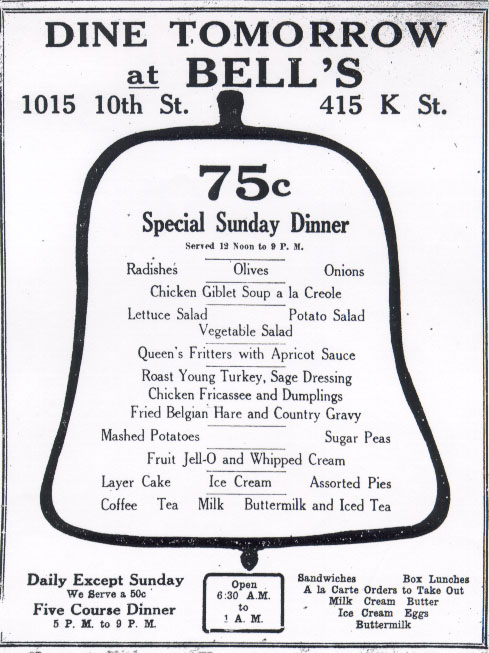 Wow. The "Special Sunday Dinner" was only seventy-five cents.
You started with what I presume is a relish tray of radishes, olives and onions (probably chilled scallions); move on to Chicken Giblet Soup a la Creole; then a choice of salad; followed by Queen's Fritters with Apricot Sauce. After that you choose a main course, one of which is Fried Belgian Hare and Country Gravy. You get mashed potatoes and sugar peas, then finish with a selection of desserts, including Fruit Jell-O and Whipped Cream. (Although I'd choose one of those "Assorted Pies". Can you imagine how good they probably were?)
All for seventy-five cents.
Again, some of these foods have sadly gone out of fashion in the intervening years. The Chicken Giblet Soup sounds delicious (and a good way for a restaurant to get the most value out of its purchases), but if you put it on menus today, I doubt they'd sell many. Same thing for the hare.
So what might you be discussing with your dining companions that Sunday night, while you waited for your Queen's Fritters with Apricot Sauce to arrive?
According to Wikipedia, during June of 1924 these events (among others) occurred:
June 1: Harry Grindell Matthews returned from Paris to London to try to use a Pathe film to demonstrate that his death ray works.

June 2: U.S. President Calvin Coolidge signed the Indian Citizen Act of 1924 into law, granting citizenship to all Native Americans born within the territorial limits of the United States.

June 5: Ernst Alexanderson sent the first facsimile across the Atlantic Ocean to his father in Sweden (I had no idea faxes go that far back.)

June 8: George Mallory and Andrew Irvine are last seen "going strong for the top" of Mount Everest by teammate Noel Odell at 12:50 P.M. The two mountaineers are never seen alive again.

June 10: Fascists kidnap and kill Italian socialist leader Giacomo Matteotti in Rome.

June 12: Six members of the Egan's Rats gang rob a mail train in Rondout, Illinois. The robbery is later found to have been an inside job.
I have to go now, because we're about to get a new dishwasher delivered, and we still have to hunt down the cats and put them behind locked doors, so they don't accidently run out into the street.
See you next month!
(That was the original happy ending to this piece, but now I have to add, tragically, that when the dishwasher installers did arrive, both with firm handshakes, once they pulled our old dishwasher out of its socket like a bad tooth, and installed the gleaming stainless steel replacement, it turned out the shiny new dishwasher also leaked. So we have a beautiful piece of modern sculpture under our counter right now (and it is beautiful), but it can't wash dishes. We're supposed to be getting a replacement dishwasher, but what with the New Years holiday weekend, when that will happen is, as of this writing, discouragingly vague.)