lately
the on-line diary of
ralph robert moore
BUY MY BOOKS | HOME | FICTION | ESSAYS | ON-LINE DIARY | MARGINALIA | GALLERY | INTERACTIVE FEATURES | FAQ | SEARCH ENGINE | LINKS | CONTACT
www.ralphrobertmoore.com
the official website for the writings of
ralph robert moore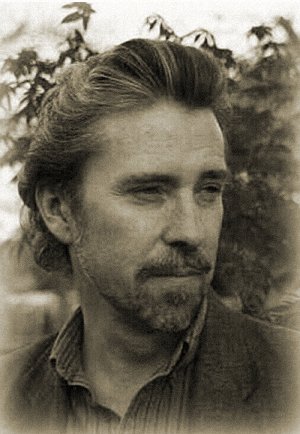 Copyright © 2002 by Ralph Robert Moore.
Print in HTML format.
Return to lately 2002.

if we could just step back
---
february 23, 2002
When we last left me, I was crawling around on my hands and knees behind furniture, squeeze-trigger bottle of 409 in my left hand, white cloth (gray, actually, now that I look at it more closely), in my right, cleaning house for our visit by Joe, Mary's dad.
(During my cleaning, incidentally, I discovered, during several sneezing fits, that I'm apparently allergic to rooms that don't have within them a box of Kleenex.)
Of all the surfaces, crevices and interstices I restored over the past week before Joe's visit, nothing was as fascinating to clean as the white wicker bird cage that hangs mid-air from the ceiling in the bay-windowed recess of our master bedroom.
It's one of those old-fashioned Victorian (I guess) birdcages, its barred chamber tapering up to an elegantly curved hood. Inside, Mary long ago placed green silk vines and yellow and white silk flowers (we can't have real plants inside our home because of the cats). It looks beautiful, slowly turning in the breeze from the windows, its spiral of lower leaves unhurriedly growing towards the top of my work computer.
I had just finished cleaning the surface of the desk beneath the birdcage, feeling mighty proud of myself, admiring an upside down ghost of the cage in the surface's black gleam, when it occurred to me I should look inside the cage itself, to see if that needed any cleaning.
From afar, the cage had looked perfect, gently jammed with colorful silk impersonations, but up close, my left hand on its base, pausing its slow revolve, I could see layer upon layer of dust inside.
I pushed my right index finger, disguised within a paper towel, between two of the white wicker ribs of the cage, hoping this little absorbent-pocket spirit could wipe away the dust, but all it really managed was to clean, not very well, a small circle on one of the ivy leaves.
So I got the vacuum cleaner. It's a floor model, and like most, comes with a coiled tube you can outfit with different attachments, including one whose square mouth is lined with bristles, apparently meant for cleaning couches and stair steps, but which really, as I discovered over and over again, is absolutely useless, since the mouth after a short time clogs with a huge, soft gray ball of hair, dust, bits of paper with half a word on each, and the shiny red cellophane strips used to behead the wrapping on a pack of cigarettes.
But another attachment, made of hard gray plastic, long and narrow, somewhat like the snout of a barracuda, was perfect.
All I had to do was poke it through two white bars, let it nuzzle against one of the ivy leaves inside, which obediently lifted, and the attachment would immediately start sucking off the dust.
Which is what made cleaning the inside of the cage so fascinating to me. Because there was such a jungle of dust-collecting curves and green silk surfaces within the cage, the interior was filled with maybe thirty or so clumps of dust, of all different shapes and sizes, although all the sizes were small, of course, the very biggest, huge, in fact, being half as large as the palm of your hand (you can imagine how satisfying it was to remove that one). Maneuvering between the white wicker bars, I laid the snout of the nozzle against the irregular bottom of the first of these clumps, watching as the suction force pulled at the clump, slowly peeling it off the leaf surface, sucking the skein of dust and fur and God only knows what towards a darkening triangle of disappearance within the nozzle's mouth. The fascination here was in the way each skein lifted off the surface in a different way in response to the suction. It was one of those household chores that turn out to be very interesting to do, even fun, like pounding away with a hammer and a screwdriver at the styrofoam-white chunks of ice in the freezer of a refrigerator, gradually, over the course of an hour or so, removing the build-up, baring the interior walls of the freezer again, your hands by then reddened from so much ice handling, trickle of red blood on the back of one knuckle, or dropping expired eggs one by one into the stainless steel drain, watching them pile up, hard white helmets and syrupy yellows, then flicking on the garbage disposal.
If you could somehow turn something like that into a game, I'd buy it. You could call it Quiet Satisfaction.
By the time of Joe's visit, Saturday, February 9, our house was pristine. You could eat off the floors, perform surgery on any of the counters.
Joe usually arrives here from Milwaukee by Amtrak, but this time, since the first leg of his trip involved a reunion in Florida with his boyhood friends, he flew.
We got out to DFW Airport (Dallas-Fort Worth Airport) about half an hour early. Because of September 11, we could no longer wait by the disembarking gate, of course, which is now considered a secured area, and instead had to sit out in the baggage pick-up area, along with everyone else anxiously waiting for a loved one.
A flood of all different types and sizes made their way through the revolving doors into the baggage claim area, and then we saw him, waiting his turn to enter the doors, waving happily to us.
He looked great. He's a handsome man, strong nose and alert eyes. Although he's past eighty, he's still robust.
After our hugs amid strangers, we walked to our car and headed on the highway to T.J.'s Seafood, which has been announced by some Dallas magazines and newspapers to be the best seafood market in the city. We wanted to get three lobsters for that night's kick-off dinner, about four pounds each.
In preparation for this, Mary called the market three times during the previous week to verify that four-pound lobsters would be available that Saturday. Each time she was assured, yes, we always have four-pound lobsters, and we'll have them this Saturday. So we go to T.J.'s Seafood, and they just have chicken lobsters, meaning little lobsters about a pound each. I asked one of the help, and he told me they only get four pound lobsters if they're special-ordered. We mentioned the three calls, and he just shrugged, not in an insolent way, but simply because he didn't know what to say. The good news part of this is that the lobster tank at T.J.'s Seafood in Dallas was extremely cloudy, meaning the water itself must be quite dirty, so we were actually glad we didn't buy anything from T.J.'s Seafood after all.
We wound up instead at our local Albertson's, a supermarket chain, where the tank water is immaculately clean, and the lobsters frisky and healthy-looking. They tasted sweet and delicious when we murdered them later that night.
Part of the fun of Joe's visits is deciding what meals we'll prepare. Here's what we wound up with:
Saturday: Steamed lobsters and corn on the cob
Sunday: Beef stew
Monday: Scallops a la Mary (sea scallops cooked in a sauce of fresh basil leaves and cream), with a bread round and avocadoes with blue cheese dressing
Tuesday: Sautéed crawfish in a spiced butter sauce, with garlic and the minced tops of green onions, a salad of three lettuces, red cabbage, and Mandarin oranges, and Texmati rice
Wednesday: Veal Piccata, with a sauté of zucchini, crook neck squash and mushrooms, and penne pasta in a butter and parmegean sauce
Thursday: Shrimp Scampi, with rice pilaf and asparagus
Friday: Salisbury steaks with Mary's recipe for macaroni and cheese, and mine for creamed spinach

The day after his arrival, Sunday, we all went to church (Joe goes to church each week). Outside, three little kids were ringing the bells to call everyone to service, the bells so large, the kids so small, as each bell swung to the side in the air, just before the slant brought the clapper against its side, the kid holding the rope would be hoisted four feet into the air, holding onto the rope for dear life, screaming and laughing. Inside, we found that for whatever reason, the church had removed all its beautiful wooden pews, replacing them with metal folding chairs pushed against each other. But we enjoyed the service anyway.
Joe arrived with a precious packet of twelve letters he had recently discovered in his home, written by his late wife Joan, Mary's mother, in the late sixties while he was working overseas, in France and Australia, for AeroJet (Joe was a rocket scientist. He headed the team that developed the navigational system for the Apollo moon rockets).
We read two letters aloud each evening, the first few sessions in our breakfast nook, by the candlelight still flickering after dinner, the rest out in our backyard, late afternoon, birds chirping their own punctuations. The texts of some of them are on Joe's site, here. It was a joy to hear her words, first because they were from her, of course, but also because although each was written in a conversational style, the letters often flashed with a simple elegance of expression. Joan was a great writer, and illustrator, although she demurred from professionally pursuing either career. What she created, she often destroyed. Artists choose many mediums. She's one of the few, for reasons no one may ever know, who chose sand at the shoreline.
In addition to the letters, we also looked at an hour videotape I complied, of footage of the four of us from 1982, in Sacramento, and 1988 and 1990, in Milwaukee. There we were, all of us alive and happy, cracking jokes, making meals, interrupting each other's stories. I'm glad time runs the way it does. I'm glad the past is more accessible than the future.
Whenever the three of us (Joe, Mary, me) have gotten together since Joan's death, we've noticed manifestations. This time, reading together for the first time a letter Joan wrote thirty-five years ago, in the text of the letter she suddenly mentions the importance of February 13 (the letter itself was written in January, and there's nothing in the letter that explains why she thinks that particular date, February 13, is important). But the date the three of us first read that letter, in our backyard during Joe's visit, thirty-five years later, celebrating Joan, was February 13.
Most of our conversations took place around the table in our breakfast nook. Each day, I noticed a plastic shopping bag swirling in the air just above the cement patio outside the breakfast nook window. In the ten years we've lived here, nearly each day of which we've sat at our breakfast nook table, no bag had ever appeared on our patio. We looked at this one. It had a smiley face. Likewise, when we discussed Joan our first evening, the lights in our kitchen suddenly dimmed, then brightened to normal again. That also has never happened before (we've had lights go out, and power shortages, but never a light dip to dimness, then return. The digital clocks in our home, two in the kitchen, usually so sensitive to power surges, fainting to zero displays at the least loss of connection, kept the time. All of them). Happenstance, or something more? I honestly don't know. But I do believe the dead communicate with us. I think they do it through electricity, wind, dreams, coincidence, smell, and other means. I think one of the rules of the communication is that they can't ever give us a definitive sign, something that would once and forever establish that the dead are here. My belief is the reason they can't do that is that it would too profoundly interfere with our lives on this plane. I believe we're meant to live with doubt. I believe all we're allowed to receive are hints.
While Joe was here, the three of us lived in the clock-ignored realm found in the best vacations. We stayed up as late as we wanted, woke when we wanted. Breakfast was usually coffee and a bowl of hard rolls and a plate of butter, although Fat Tuesday we started with mimosas, then made Eggs Benedict. After a couple of hours of talk around the breakfast nook table, we'd go upstairs to our computers, sharing information on HTML coding and Adobe photo editing. Early afternoon, Joe would usually retire for a nap, at which point Mary and I would go downstairs, clean up the kitchen, and read or watch TV. Early evening, we'd go outside for a couple of hours, them come in and start dinner, Joe walking from pot to pan to watch the process. After we ate there'd be more talk, then we'd watch a video, stopping it halfway to sit around the breakfast nook table again and have a bowl of vanilla ice cream with plum liquor poured over the scoop.
Here are the videos we watched:
Monday: What Planet Are You From?
Tuesday: Best In Show
Wednesday: O Brother, Where Art Thou?
Thursday: Legally Blonde
Friday: Meet The Parents

The only time during his visit we set the alarm clock was Saturday morning, because he had an early flight. DFW has relaxed its security a little, so that you can now pull up to the Arrivals entrance, and park at the curb long enough to disembark someone. We stayed with Joe to make sure his bags were properly ticketed, then waited from the sidewalk as he walked through the glass doors to the escalator, once again waving to us behind glass, the three of us feeling a different emotion, this wave.
It was a wonderful visit. The three of us share the same humor, and interests. There's something great about getting together with people you love, to where after so long you see them again across the table, or hear them upstairs. It's one of the best parts of life. It's what stays, that time outside the routine. Fleeting though it is, we all know it's what was meant.
The week before Joe visited us, the weather in our part of Texas turned unusually cold, and we actually got a snow fall, a bit of planetary magic I saw all the time during my childhood in Connecticut, and later when Mary and I lived in Maine, but a magic that occurs around here maybe only once a year, if even. I called Mary up on the phone, and we sat at our desks, talking, watching through windows thirty miles apart as the snow fell, big, fat flakes this time, no wind, so they came almost straight down, onto our backyard garden where I sat, onto the highways and access roads where Mary was. There's something so beautiful about snow, I can't imagine anyone unable to appreciate its wonder, even in the middle of a long, tiresome journey, even on a battlefield, even if only momentarily. The Link of the Week this time is to Snow Crystals.Net, a site maintained by CalTech, and specifically to its Preserving Snow Crystals page, which gives detailed instructions on preserving snow crystals using Formvar and ethylene dichloride or, alternatively, clear acrylic spray paint. But of course, either method can preserve only the shape of the experience, but not the cold, white, fresh experience itself, which is kept best through poetry, such as the lines by Thoreau quoted on their main page: "How full of creative genius is the air in which these are generated! I should hardly admire them more if real stars fell and lodged on my coat."
This week, we have three Pictures of the Week.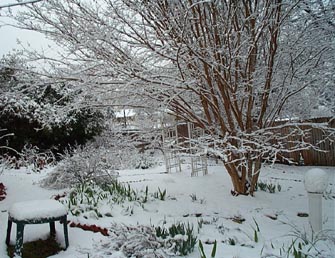 This is our backyard, taken the morning after the snowfall. Coffee is brewing inside, filling the kitchen with its aroma, but we had to get out, raincoats over our pajamas, to crunch around in the snow for a while. By a rent in our wooden fence we found deep cat prints leading up to the hillock in our property where catnip grows wild. A last bender before the intoxicating leaves freeze.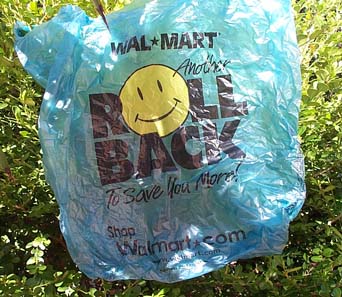 Here's a picture of the smiley face shopping bag that kept persistently swirling around on the cement patio outside our window while we talked of Joan. Sometimes I think if we could just step back from our lives, we'd be able to see patterns, and we'd learn so much. But that stepping-back just isn't available to us, here.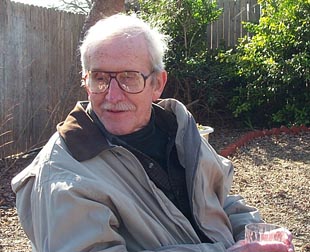 Finally, here's a picture of Joe, Mary's dad, taken during his visit with us. We're at the rear of our property, drinking beer even though it's a little chilly, about to read another letter from Joan, from thirty-five years ago.