lately
the on-line diary of
ralph robert moore
BUY MY BOOKS | HOME | FICTION | ESSAYS | ON-LINE DIARY | MARGINALIA | GALLERY | INTERACTIVE FEATURES | FAQ | SEARCH ENGINE | LINKS | CONTACT
www.ralphrobertmoore.com
the official website for the writings of
ralph robert moore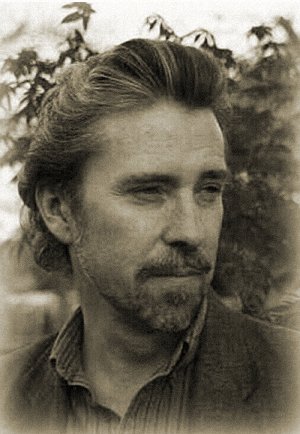 Copyright © 2002 by Ralph Robert Moore.
Print in HTML format.
Return to lately 2002.

all of them with shopping carts
---
march 2, 2002
I'm a sucker for a Grand Opening.
So when Mary told me a Central Market was having its grand opening this week in Plano, we thought, why not go?
The actual opening day of the market was Wednesday, which wasn't a good day for us. We decided to go Friday instead, yesterday. (By not attending Wednesday though, we missed the personal appearance at the market of Paul Prudhomme, the man who brought Cajun food to the national consciousness. I would have liked to have met him. Over the years, each of us compile our own list of things we'd like to have happen in our lives. One of mine was to have Vladimir Nabokov read something I wrote, but that's probably not going to happen, since he's been dead for 25 years now. Another is to eat a meal prepared by Prudhomme himself.)
Most grand openings have a small town festive air to them, even when they occur in the middle of a big city. You feel that spirit in the crowd moving politely towards the wide front entrance.
The bleakest grand opening we ever attended was in Portland, Maine. We arrived in the state that evening, and checked into a motel. Most of the restaurants were either closed for the day by then, or too far away in an unfamiliar town, on a snowy evening. As it happened, down the block from where we were staying, a supermarket was opening its latest neighborhood store.
We bundled up in our dark overcoats, running out to our white Mustang, which was already covered with snow, and drove over to the store.
Hands pushed deep down in our coats' pockets, we joined the long line of people standing in the falling snow outside the glass front doors, waiting to get in. Two women at the front, scarves and mittens, were handing out flyers. As we neared them, a man about a hundred years old, in a red and black plaid winter jacket, came out the exit doors, old eyes gleeful. "They're passing out free frozen waffles inside!" I knew he expected some kind of reaction from me at this news, and after all, we should all indulge centenarians, so I hunched my shoulders up and vibrated my head slightly, as if thrilled. He slid the rectangular top of the box of frozen waffles out of the plastic shopping bag, showing it to me. Mary and I had our shoulders pressed against each other for warmth. All we could think to say was, "Wow!"
Actually, those frozen waffles turned out to be among the most exciting things in the new store. They had some streamers, and more store personnel walking around than usual, but other than that, it was just a typical supermarket, with milk at the back so you have to traipse the entire depth of the place if you just want milk, the marketing theory being, "the deeper we get them into our store, the more likely they'll be to buy some of the items they pass on the way." Like we're really going to enter the store for milk only, and come out with a new Mr. Coffee, a humorous birthday card, jumper cables, a can of Dinty Moore Stew, and milk. (The thing about the jumper cables though was that we did have a legitimate concern our car, bought in California, might have trouble starting in the cold Maine mornings).
The most fascistic Grand Opening we ever attended was right here in Texas, at The Incredible Universe Store ribbon-cutting. They really should have named their store The Incredible, Profound Misunderstanding About What Consumers Will Tolerate To Buy A Fucking CD Player Store. In order to even get into the store, and I'm not exaggerating, you had to show the guards/greeters in the lobby your driver's license, and one credit card. This information was then entered into their computer database, and checked for God only knows what. After you had been cleared, and the process took a while, so for all I know they were checking credit reports and criminal records, you were issued an identification card you had to keep in open view while you were inside their precious little store, much like the hard plastic security badges some companies make their employees wear (and by the way, who is that supposed to impress?). Once Mary and I were actually cleared to go through the Berlin Wall and get into the store itself, it was just like every other electronics store, except there was an overuse of black light. We bought a couple of CD's, I think U2 and The Cure, then had to hand our bag over to one of the guards/door-openers standing by the exits. We never went back. Apparently, most other people didn't, either. I remember reading a few years later the corporation had gone belly-up because no one wanted to go to their stores. The news was like crackling around outside in the snow, and seeing the first colorful, crust-lifting push of crocus. I hope the shithead who came up with the concept is back to living with his parents, and getting nagged every day during Partridge Family reruns about mowing the lawn.
Mary and I knew the Central Market Grand Opening would be different though. For one thing, Central Market is owned by HEB Corporation. We never heard of HEB supermarkets until we moved to San Antonio, but I have to say, of all the supermarkets we've ever shopped in, HEB stores are the best. Each one is bright and airy, with wide aisles, clean floors, and the freshest and most varied produce. We really missed them when we moved north to Dallas.
We're something of semi-experts when it comes to supermarkets, because each time we've traveled across America and Canada, we've always made it a point to stop at the different towns and thoroughly check out their markets, just out of curiosity, walking down each aisle, seeing how each market compares with the others, and what local foods they offer. The best supermarkets for seafood were in Oregon and Washington state. They had the greatest variety, and the freshest catch. One supermarket that absolutely stunned us was in a fairly small town in west Texas. The place was huge, and had half a football field devoted to an incredible variety of meats, including not only high grade beef, pork and chicken, but also fresh bison, antelope, and other game meats. The seafood section included a large tank filled with live trout. The only downside was that the place held a slight Twilight Zone atmosphere. We were virtually the only shoppers in the store, and the town itself consisted mostly of trailers and modest homes. That outstanding store, out in the middle of nowhere, will remain one of my personal Great Mysteries.
We got to Central Market a little before noon. The parking lot is immense, like what you'd find at a very successful shopping mall. We parked within distance of the store, then walked hand-in-hand past hundreds of SUV's to get to the main entrance.
The inside is laid out differently from most supermarkets. Instead of entering into a huge, high space where you can see all of the store's interior from where you're standing, Central Market is a maze, where your line of vision, due to floor to ceiling walls, is restricted to the section you're in. So it's easy to get lost.
The interior was incredibly crowded. Everyone was polite, and the noise level was low, but you couldn't move down most aisles, and those you could, you had to scrape the small of your back over the handles of shopping carts, and twist your body to pass though groups of people milling around. I would expect the crowds will thin after a few weeks. Indeed, while we were there, very few people seemed to be actually buying anything. They were mostly bending over to gawk at what was available.
The market itself offers an extraordinary variety. It features 13,000 specialty foods from around the world, including 80 types of mustard, 180 different olive oils, 170 different salsas, 600 varieties of cheese, 700 different produce items, and 100 different types of fish and shellfish (I'm reading from their brochure). They sell Chilean Sea Bass, which often isn't available anymore, and have two lobster tanks, one with normal-sized lobsters, and another with lobsters up to ten pounds (they're scary at that weight, but I'd love to negotiate with one). Tanks in the middle of the seafood section are divided into fourteen separate areas, eleven featuring different types of live clams, two featuring live oysters, and one mysteriously empty. All the live seafood tanks looked clean. Their deli section featured about a dozen different liverwursts, not as many as you'd find in Milwaukee, but still much more than most markets have, and a wide variety of domestic and imported butters.
Being in the market felt like stepping forward into the future. Mind-boggling selections, elbow-jostling crowds.
We were both impressed. Their prices overall seemed about average, although the freshly prepared food seemed a bit pricey. Like most American supermarkets, they have an HMR section (HMR stands for "Home Meal Replacement"), where you can buy pre-cooked meals to heat up at home. We bought the pork chops stuffed with cornbread, thyme and sage, with an apple-scented demi-glace, and chicken cordon bleu, and a quart of garlic mashed potatoes. Although there were a hundred or so people milling around that area, most, again, were merely gawking, so that we were waited on fairly quickly. Each pork chop was seven dollars, as was each chicken breast.
We decided to buy lunch there as well, so got in a Disney-style line, where the line doubles back and forth upon itself, at the Café on the Run (I would suggest they come up with a better name). The line moved very quickly. We only had to wait about half a minute before it was our turn to order. We both tried the New York Style Pastrami, a hot pastrami sandwich with Swiss cheese and a strong mustard, served on unusually soft rye bread. Each sandwich cost six dollars and fifty cents, again, a little on the pricey side, but they were delicious, the pastrami of a high quality. It would be nice if they provided a napkin with the sandwich, and if they had soft drinks available at the Café, which they don't.
Overall, we were very pleased with the store itself. As we left, we picked up from a folding card table a map to the store, its layout looking like the sort of childish maze a carefully-held crayon is guided through, finding where the monkey has hidden his banana.
We heated the pork chops and chicken breasts for dinner that night, but were disappointed. Both were dry. The pork chop had little flavor. The chicken cordon bleu, which is supposed to be a chicken breast stuffed with cheese and ham, didn't have cheese in either breast (but, somehow, the smell of cheese), and only one breast had ham inside. For seven dollars a piece, it should have been much better. The garlic mashed potatoes were also dry. Mary added a little sour cream to moisten them. They had a nice garlic flavor, but had been so heavily doused with pepper, they were just too spicy (and I like spicy).
But we'll definitely go back, especially when Mary's dad, Joe, visits again, to pick up some of those over-sized lobsters, some of the international butters they offer, and definitely the live clams and oysters.
God, I love food.
Mary and I usually lay around in bed Saturday mornings, too lazy to get up and start breakfast just yet, flipping around the channels to see what's on TV. I pulled the satellite guide out from under a pile of AOL CD's offering 1,000 hours of free service (like everyone else in America, we get at least one new AOL CD each week. There are so many of them now, and nobody wants them, they've become the digital age's equivalent of dust).
We turned on the Sundance channel to see what they had. It was the film Baraka, a documentary made in 1992 by Ron Fricke.
If you've never seen Baraka, you should. It is absolutely stunning, visually. Fricke took his crew around the world, to 24 countries on six continents, filming for fourteen months not only the physical beauty of the world, but also the varieties of human activity under different cultures. Although there is no narration, the juxtaposition of the images create their own purpose.
Sundance is showing the film in its original, absolutely gorgeous 70mm aspect ratio, which makes each scene even more breathtaking. I strongly recommend it.
The Link of the Week this time is to a site discussing Baraka, located here.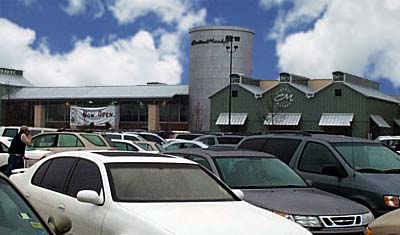 This is a very small section of the parking lot of the new Central Market in Plano, during its Grand Opening Week. There were thousands upon thousands of people inside by the time we got there, all of them with shopping carts.