lately
the on-line diary of
ralph robert moore
BUY MY BOOKS | HOME | FICTION | ESSAYS | ON-LINE DIARY | MARGINALIA | GALLERY | INTERACTIVE FEATURES | FAQ | SEARCH ENGINE | LINKS | CONTACT
www.ralphrobertmoore.com
the official website for the writings of
ralph robert moore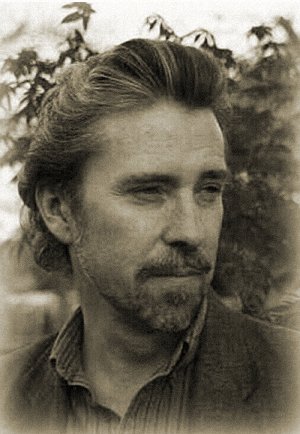 Copyright © 2001 by Ralph Robert Moore.
Print in HTML format.
Return to lately 2001.

loud, wet intimacy
---
september 8, 2001
Mary and I had a great three-day weekend over the Labor Day holiday, and we didn't do anything out of the ordinary.
It's funny how things work that way, sometimes.
We didn't even cook outside. We bought a new barbecue last winter, in anticipation, because the old one had rusted through, hot orange coal dust dripping from the bottom of the black metal belly, but the new barbecue is still in its red and white box, in the garage, off to one side. I have to drag it out of the way each time I file business papers in the row of filing cabinets lined up under the aluminum tracks the garage door follows.
So what made this past weekend so great?
I remember the beginning of Fritz Leiber's Conjure Wife, where a husband is wandering around their home, feeling really happy, not wanting to analyze why he's happy, because he figures if he does, he'll come up with a reason why he shouldn't feel so content.
Part of it, definitely, was the rain.
We had gotten almost-rain a couple of times earlier in the week, that frustrating cloud flicker where you hear rumblings above you, and the wind whips up, swirling the ground, there may even be a flash of lightening against the windows, but the patio stays dry, or only displays an ellipsis of three fat drops.
But Friday, driving home, one of the wettest storms we've been in in years drummed on top of us, following our car all the way to our driveway, dropping in sheets off the front of our house, onto my broken black umbrella, sliding down my spine, deliciously cold, as I slid up the wet garage door, ran back through the headlights to the driver's door.
Inside, we side-stepped the hungry cats, pulling up the mini-blinds across the rear of our home, watching the ten thousand downward beatings against our trees, flowers, paths, patio.
With a heavy rain, such as this, the gray horizon comes closer, the sky lowers, all the world compressed to what you can see through a window. A loud, wet intimacy.
I don't know if time is linear, or if it's as curved as the universe. I do know from experience, though, that sometimes, if something floating in the future is large enough, even though not yet seen by us, we tend to sense its imminence.
So was there something slowly revolving in our near future, still too far away to clearly sense, that our happiness over the three-day weekend portended?
I kept my ears up.
I've also noticed that great good news often has satellites of slightly bad news you must pass on your way to the good news' surface.
Yesterday, Friday, everything happened.
First satellite of bad news:
We ate at Vincent's Seafood Restaurant, one of the first restaurants we tried when we moved to Dallas. It's an old favorite. We took my dad there during his most recent visit. Vincent's stopped updating its menu in the late fifties, meaning it serves classic seafood dishes, made with the ingredients that best complement seafood: cream, butter, lemon and garlic. I like the experiments chefs have taken with 'fusion cuisine', and certainly don't want them to stop, it's nice, as a novelty, to be served veal with reductions of blackberries, ancho chilies and celeriac, but the truth is, the best way to present each meat we eat has been worked out decades ago, for many of them centuries ago, and they really can't be improved upon. You can sprinkle lobster meat with balsamic vinegar, scatter black beans around, pile up a pale haystack of julienne endive alongside, and it may look pretty on the plate, but it's never going to be as satisfying on the tongue as Lobster Newburg.
So that's why we liked Vincent's. But Friday, we had a terrible time (we had a great time because we were together, but our experience at Vincent's was disappointing). It took ten minutes for someone to wander out to the deserted reception area and lead us to a table. Another ten minutes for a waitress to drift over, and even then, her manner was less like someone ready to take our order, and more like a nurse quietly swinging the door partway open to see if the patient has fallen asleep yet. I ordered Oysters Bienville to start, but she brought me Oysters Rockefeller instead. The dish wasn't very good. Not enough oysters, plus far too much Rockefeller (and I liked the guy). Mary started with a chilled shrimp cocktail. The shrimp were large, but had been treated with nitrates, so they had a chemical taste, and several were slightly spoiled. I had the Snapper a la Vincent's, quickly pan seared and covered with large chunks of fresh, moist crabmeat, absolutely delicious, but Mary's Scallop Casserole was much too salty, and the scallops hadn't been washed to remove the sand. After we finished, we waited twenty minutes to get our check. Our waitress had vanished, perhaps to the kitchen to create a few more vats of Rockefeller sauce. We asked the woman who cleared our table for our check, but she gave us a head-nodding, "I don't speak your language" grin. Finally, I walked across the nearly deserted dining room to where an eightyish bartender sat hump-shouldered on a red stool, carefully holding up strips of paper to his coke bottom eyeglasses before placing them down in a new pile he was forming. We'll probably never go back. It's a shame.
Second satellite of bad news:
When I drove back home after our lunch at Vincent's, there was a message on my voicemail from John, the attorney who represented the company I used to work for in the lawsuit I spoke about in last week's Lately. "The judge has faxed me her decision, Rob, and unfortunately, she's decided in favor of the plaintiffs. However, she has dismissed plaintiff's petition for attorney fees." What that meant was that the company would have to pay $90,000 in damages, although the judge had decided the company did not have to pay the plaintiff's legal fees of $47,000. So in a sense, everybody lost.
I felt bad for my former company, but I had done my best, and so had John. I thanked him for his services, and reassured him that I felt he had done all that anyone could in defending the case, which seemed to mean a lot to him. If another case came up in the Dallas area, I'd hire him again. Judges in Texas are elected. It's awfully hard to find one who's willing to rule against a major municipality, such as the city who had sued us.
So having passed two satellites of bad news, where was my planet of good news?
I went upstairs after talking to John, checked my e-mails.
One was from Unbound Books, a California publisher.
A few months ago, I contacted them to see if they had any interest in publishing my novel Father Figure, enclosing a three-page synopsis, and the first fifty pages. They have a reputation for being more daring in what they publish than most houses.
They replied, asking for a look at the entire manuscript.
I sent it to them.
I opened the e-mail.
It was from the publisher of Unbound Books, telling me she had mailed me a contract for my novel. She wants to publish it.
There are certain watersheds for a fiction writer. One, certainly, is being published anywhere. Another is being paid for being published. Another is being published in another country, being translated, first being anthologized, but the biggest watershed of all is having a book published, particularly a novel.
It's taken so many years for me to reach this point, I'm still a little dazed.
I'll give you updates here in the months to come on the novel's progress towards publication. The process may interest those of you who are considering writing as a career, and it may be interesting to readers, too.
Over the past three-day weekend, when the rains had subsided for a few hours (we got six inches of rain that Friday evening, more falling the next day), Mary and I walked out in our backyard, feet feeling like we were walking on sponges.
At the rear of our property, several bird feeders hung off the branches. A seed is amazing. Something so small it can fit under your thumbnail, but can grow eighty feet high, with a root system bulky enough to fill a two-story house, when the conditions are right.
The seed in our feeders, dead as pebbles last week, had, in the rain, sprouted.