lately
the on-line diary of
ralph robert moore
BUY MY BOOKS | HOME | FICTION | ESSAYS | ON-LINE DIARY | MARGINALIA | GALLERY | INTERACTIVE FEATURES | FAQ | SEARCH ENGINE | LINKS | CONTACT
www.ralphrobertmoore.com
the official website for the writings of
ralph robert moore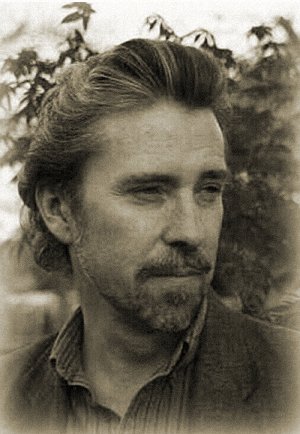 Copyright © 2000 by Ralph Robert Moore.
Print in HTML format.
Return to lately 2000.

i get fired
---
october 27, 2000
I lost my job today.
Since I started these Lately entries a couple of years ago, I've gotten in the habit of sifting through my life each month to see if anything happened during that time which might make an interesting addition.
This month's entry was handed to me on a silver platter.
Mary and I went into work this morning as we always do, sitting in traffic for an hour and a half through downtown Dallas, smoking, joking, listening to classical music. I dropped her off with a kiss on her lips, a peck on her forehead, then got back up on the highway and continued for another fifteen minutes to my work.
It was that best day of the week, Friday.
I set my glass of ice water down on the desk in my office just as one of the people I work with walked in, closed the door.
The person I reported to, who I never met, works out of Columbus, Ohio, and wasn't in today, so the task of letting me go befell to this guy standing in front of my desk, pulling a white letter out of a manila envelope.
I went, with dignity, through the moment of not being sure I was hearing things right, and the moment when I realized I was.
I started with the company in February of 1989. Over eleven years ago.
Saying "the company" is actually a bit misleading, because the company I was hired by back then, Health Economics Corporation, was acquired by Equifax, Inc. out of Atlanta in 1994, at which point its name was changed to Equifax Healthcare Administrative Services, Inc. (EHAS). EHAS was acquired by CENTRA Benefits Services, Inc., out of Minnesota, in 1996, and EHAS' name changed to CENTRA Healthcare Administrative Services, Inc. (CHAS). CENTRA was acquired by HealthPlan Services, Inc., out of Tampa, in 1998, and its name changed to CENTRA HealthPlan LLC, a division reporting to Harrington Benefit Services, another, earlier, HealthPlan Services, Inc. acquisition. CENTRA HealthPlan LLC and Harrington Benefit Services were acquired by Trewit, Inc. earlier this week.
Each time the company I worked for, whatever new name it was under, was acquired, the acquiring corporation would fly in its top executives, white men in dark suits, who would assure all of us no changes were planned, and that they, the new owners, were going to place an even stronger emphasis on employee perks. Each time, soon after that, the purges would begin. The company I worked for used to have about 700 employees. Now it's down to about 10.
I worked with a lot of smart, caring, conscientious, funny, wonderful people over the past eleven years, the type you always enjoyed seeing in the hall, or liked to talk to before meetings, and watched as one by one they were removed.
I've wondered, and more often the past few years, how I'd react to being fired. As it is, I find that although I'm sad, and I'm certainly not looking forward to heading down that sidewalk asking for a new job, I don't feel any bitterness at all, not even against Trewit, Inc. This is the way the world works.
Of all the common sayings we share, the one I've always liked best is, 'One door closes, and another door opens'. I probably won't start looking for work until the beginning of the year, which gives me the time to work on a number of projects I might otherwise never have done. And who knows if something might not come of that?
My wife and I love each other. I was given a talent for writing. We have a beautiful home, with a beautiful backyard garden, and four demanding cats. If I roll ten feet away from where I'm typing this sentence, I can pull down any one of a thousand books, from the ancient Greeks to the latest experiment. I remain a very happy person. As I've said elsewhere, I believe most of our lives are lived in our minds, and our minds are aswirl with memories. As discouraging as this moment is for me now, I know one day my firing will be only another memory, one that will need to compete with so many other, richer, far happier recollections.
I look forward to that day.