lately
the on-line diary of
ralph robert moore
BUY MY BOOKS | HOME | FICTION | ESSAYS | ON-LINE DIARY | MARGINALIA | GALLERY | INTERACTIVE FEATURES | FAQ | SEARCH ENGINE | LINKS | CONTACT
www.ralphrobertmoore.com
the official website for the writings of
ralph robert moore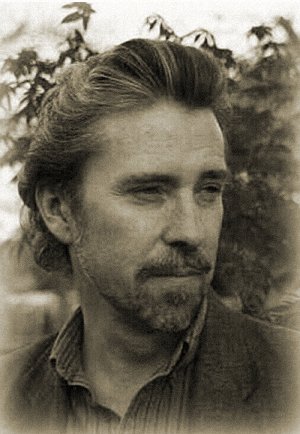 Copyright © 2003 by Ralph Robert Moore.
Print in HTML format.
Return to lately 2003.

i should be so lucky
---
december 1, 2003
Okay.
You go to a Chinese restaurant, probably not one of the new ones, decorated by someone who really, really likes ironwork, filled with close-set tables, all the diners on cell phones, the owner a corporation whose CEO wakes up each morning thinking, I've got a physician-specialist office complex with only a seventy percent occupancy rate, I don't know if I can keep even coffee down today; but rather one of the old, neighborhood ma and pa places, where the waiters are the parents' tall sons, the cashier is their daughter, the soup offerings are egg drop and wonton, that's it, the next line on the menu is the heading for Chef's Specialties, you order sweet and sour pork, egg foo young, maybe half a Peking duck if you're feeling flush, and each dish is brought to your table in a metal bowl on a pedestal, a metal hood fitted atop. You lift the hoods, and here, to share, are all these delicious, steaming dishes.
So what are those metal serving dishes called? Where the hell do you buy them?
Mary and I have been searching the Internet for the past week, and we cannot locate any site that sells this rather basic product. Here are a few of the many variant search terms we've tried:
Chinese hooded metal serving bowls
Chinese restaurant supplies
Hooded metal food warmers
Metal Chinese serving bowls with lids
Metal tableware
Room service supplies
Oriental metal food bowls with hoods or lids
Chafing dishes
Plateware for Chinese food
That goddamn metal thing with Chinese food inside
We have come across dozens of sites that sell every other conceivable type of restaurant equipment, except what we're looking for (and by the way, if you want to buy kitchenware, definitely buy it from a restaurant supplier, not a department store. In our search we did find, but didn't buy, stainless steel au gratin pans, with stainless steel lids, that cost $6.46 each. In a department store, you'd pay twenty to thirty dollars for the same item).
One of the sites I scoured through, line by line, page by page, drink by drink, was restaurantequipment.com. Their motto is, "We have everything, including the kitchen sink." Well good for you, here's your pat on the head, but you don't have Chinese metal food bowls with hoods. (Although they do have aluminum scoops, outdoor ashtrays, braziers, bread moulders (I would assume that's a typo, but who knows), can crushers, chef coats, cocktail stir rods, condiment organizers, pizza cutters, pancake dispensers, food pan grates, fly traps, cut-resistant gloves, guest checks, hoky sweepers (don't have a clue what it is, although the site says it picks up wet and dry debris, and that "the RotorBlade wipers are washable"), ketchup savers, lime squeezers, nacho equipment, order pads, translucent hotel pans, pocket crumbers, rabbit corkscrews, reserved signs, sauce cups, spiral fry cutters, stemware racks, toothpick dispensers, and about ten thousand other items.)
I've also come across a number of queries posted on bulletin boards by other surfers wandering around the Web, eyes like soft-boiled eggs at this point, looking for the same item. Many of the postings are replied to by people saying, I've been looking for the same thing! Let me know if you ever find them.
That's the problem with the Internet, at this point. It contains a huge amount of data, an enormous amount of that information inaccessible because you don't know the right term to use. We had the same problem a couple of years ago, when we tried to locate a supplier for those little silver tridents you use when you eat shrimp cocktail. Somebody must sell them, because you keep seeing them in restaurants, shiny and new, they don't look heirloom, but where do you buy them?
We were searching for the hooded bowls because we're preparing for our annual visit from Joe, Mary's dad. One night we're preparing some Oriental dishes, and we thought it'd be nice to be able to serve the dishes the traditional way.
Joe's arriving here December 19, from Milwaukee, staying for two weeks. Here are the dinners we're cooking this year:
Sea Scallops in Basil, Plum Tomato and Cream Sauce
Chicken Fried Steak
Steamed Whole Maine Lobster
Spaghetti Carbonara
USDA Prime Rib Roast (for Christmas)
Three Happiness (Tempura Shrimp, Foil-Wrapped Chicken Thighs, Pork Ribs)
Pasta Chu-Chu
Skewered Teriyaki Shrimp
Lobster Thermidor
Seafood Newburg (Sea Scallops, Shrimp) in Heart-Shaped Puff Pastry Vases
Veal Picata
The rest of the meals will be take out, probably traditional Mexican, which the three of us love (who doesn't love Mexican? Just like orange is the new pink, and Nicholas Cage is the new Sylvester Stallone (who himself was the new Burt Reynolds), Mexican is the new Italian).
Since we live in Texas, although we usually get at least one snowstorm during the holiday season, there are often a few days where it's warm enough to sit outside in our backyard garden.
Preparing for that, and having some work to do out there anyway, Mary and I spent a few hours one day preparing our garden for Winter.
Our tomato and pepper plants were still vigorous so we left them in the ground, the stems of the tomato plants this late in the season having gotten incredibly long, you have to follow the pale green stem along the ground, past flowers, under lantana branches, and here, so far away from the source, like a sentence skipping on commas above the water of words until the final kerplunk, is a plump, impossibly red tomato.
We transplanted some irises, on our knees by the brick borders, trowels pushing into the rich soil, moving them from under the shade of our spreading crepe myrtle to a sun-lit area at the front of that bed, the lifted-out irises, with their short, trimmed green blades in front, long, knobby pale body, scraggly roots beneath, looking like huge, shell-on shrimp.
All the while we worked, talking to each other, stooped over, a powerful wind whipped the treetops, like the wind at the edge of the world, blowing away orange and tobacco-colored leaves.
About a month ago I created a Stroke Information page on this site, located here. The point was to provide a one-stop source for general information about strokes (when Mary had her stroke, in the late evenings after I arrived home from the critical care unit at the hospital, I would search the Web for information, but never located a site that provided a complete overview about strokes. They were all specialized to one extent or another. The reason why I created my own stroke information page was to help other people who wanted information fast).
As a part of that page, I offered my own self-created lessons for aphasia patients available to anyone who wanted them, in cases where a stroke patient might not be able to afford speech therapy, or lived in an area where speech therapy wasn't available. All someone had to do to get my lessons was e-mail me. The lessons themselves are free, and I've waived copyright on them, to get them out to as many people as possible.
Aphasia is a common condition resulting from a stroke, particularly a left-brain stroke, in which the stroke patient loses the ability to understand or use language.
The effect of aphasia is devastating. Imagine just for a moment all you could make were nonsense sounds. And everything someone said to you was heard as nonsense sounds.
Can you imagine what that would be like?
Without being able to use words, how would you tell someone you had a dream last night about the day the two of you first met? How would someone tell you that you have an appointment with your cardiologist tomorrow morning at ten o'clock, and they're going to do an echocardiogram?
When I first offered the aphasia lessons on my stroke information page, to be honest, I hadn't actually created the lessons yet. I just didn't have the time. But then I heard from a speech therapist on the east coast who had read some of my writings, and wanted to use my lessons with her patients. So I spent the next week coming up with about forty different lessons, of varying difficulty, and sent them to her. I hope they help. If one aphasia patient improves because of what I've done, and is able to begin communicating again, I can't tell you how much joy that would give me. To in some small way help someone relearn how to say, "Salt", without having to point? I should be so lucky.
I've added three new reviews to the Dallas Restaurant Reviews page, for Bennigans and Must Be Heaven (both rated Fair), and Romano's Macaroni Grill (rated Good).