BUY MY BOOKS | HOME | FICTION | ESSAYS | ON-LINE DIARY | MARGINALIA | GALLERY | INTERACTIVE FEATURES | FAQ | SEARCH ENGINE | LINKS | CONTACT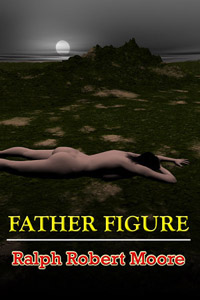 My novel Father Figure is now available in trade paperback, eBook and CD-ROM editions. Click here to purchase.
www.ralphrobertmoore.com
the official website for the writings of
ralph robert moore
contents copyright © 1998-2012 by ralph robert moore, all rights reserved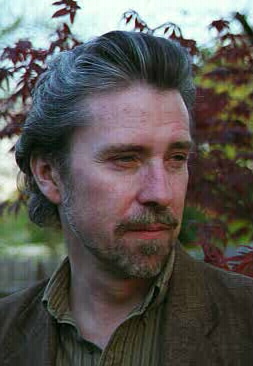 words walking nude
---
introduction




Why wade into the messiness of texts when you can skim like hurtled mica across the green pond scum, bouncing on quotes?

Excerpts are bad phone connections, snatches caught from the ether, words walking nude, luminous marble arms spread, out of the black velvet context.

This page of SENTENCE features excerpts from my writings, so that you can decide for yourself if I'm someone you'd like to read. We don't know what is communicated when two cats touch noses, or one dog's nose slips under another dog's tail. Perhaps it's excerpts.


words walking nude
---
quotes
Out of the big bang, the hot spread of stones, their whirling to warmth, the stickiness of cells, the crawling, the walking, evolved, eventually, kindness.
There is something new and weak in the Universe.
God.
-god
"I remove the eyes. I don't like them looking at me."
-Father Figure
"Sometimes I think she doesn't even like me anymore." He looked off. "I remember the first time I ever held her. The nurse brought her out, this little naked person no longer than my forearm, and passed her over to me, showing me how to hold her. I was surprised how unevenly her weight was distributed. All the heaviness was in her head: the rest of her felt much lighter. She was sleeping. I looked down at her small, plain face, her pudgy arms and legs, and realized that this was life-- this was something that had passed through my cock into your body and taken root, one person growing inside another person. I could feel her chest expand and contract with incredible strength in my arms; her little rear end, no bigger than the bottoms of my two thumbs, shift around while she slept. Through her back, as it rested against my forearm, I could feel her heart beating. And then, while still asleep, her tiny lips spread apart, showing her gums, and the nurse said, Look, her first smile." He broke down, putting his ash-stained hands over his eyes.
-Always Again
When I was a boy I would sometimes go to Bob Force's Townhouse halfway down Greenwich Avenue, where all the tables were cloth-covered and all the waiters dignified middle-aged Negro men in red jackets, huge hunting murals spanning the walls, white men with odd hats galloping on horses towards the golden disappearance of fox above the cash register alcove, a silver half-dollar tip weighing heavily in the pocket of my long pants, the depicted president doomed to sniff in etched profile my clean, whitely-starched Woolworth's handkerchief until he would be thumb-flipped in a tumbling arc to spin amid the empty plates. My sophisticated meal would be a club sandwich washed down with a dark, icy Shirley Temple, the bubble-surrounded black cherry saved for last.
-Reubens
Are the other guys naked during swim class, Toby? Even that strange Roger who said that thing to me that time you were trying to tell me your joke you just made up? I don't think I could bear to look at him without his clothes on. I think I'd just put my hands up over my face and he'd have to pry my fingers apart to get me to see what he looks like.
-When You Surfaced
"So poor the city was then! Empty doorways and dogs roaming everywhere. Everybody selling their bodies to the tourists, and the tourists are so happy, the big American men coming out of the bars laughing with three young Spanish girls on their arms, telling their companion, I get all three for only ten bucks for all night, Frank! And the girls they all know to blow kisses instead of laughing when the American men make jokes, because their teeth are not that good, you know?"
-Zombie Betrayal
Some see God in a sunset, a rose or reprieve, but I think God dwells most in the swells and curves of the human body: the hips' flare forming a woman's behind, the legs' long muscles, the small-knobbed luxuriance of a bent back, the soft, private hollows hidden between the thighs, under the arms, at the front of the throat, the corners of the still eyes. Surely in the colors of the body is the iris of God. Surely, there are less conventional prayers to which He listens.
-The Rape
Tom turns sideways, makes a fist, throws his arm forward, the fist hitting the dollar bill with a wall-shaking impact. He pulls his fist back. The dollar is gone. Four quarters drop off the wall. "I pulled my punch. I coulda made dimes. Once I got really mad and made pennies. The darn things rolled all over the place."
-Kid
Ed looked at him, then back at Donald. "Here's the deal." He hoisted the open gun. "This revolver holds six bullets." Ed opened his other hand. Seven bullets rocked in his wide palm, eclipsing his life and love lines. "One too many." He pocketed the extra metal bullet. "I believe you probably don't know where Cyril Shepherd is. The procedure at this point is to put these six bullets into your body." Donald nodded tearfully. "Now the conventional way to do that would be to shoot them into your body."
-This Moment of Brilliance
Daryl took his clothes off on the long walk to the foot of the bed, lightheaded with the lust and dread of watching how another man made love.
-Father Figure
For some reason I start getting an erection. They follow their own tide tables.
-Sex on Sheets
It's so frightening when you first feel it with your fingers.
-Nearness
"Why can't sex be as easy as eating?"
-Beaten Up By Girls
Daryl stayed tense, but not as much as if they had been male legs, or insect legs.
-Father Figure
Nothing gets so cold so fast as warm sperm.
-Sex on Sheets
Autumn spiraled down from the trees and turned brown the hillsides surrounding San Francisco. Monday mornings Moran would sit in his cold car, consulting his checklist to make sure he had told the nurse everything she needed to know, the vapor from his breath silvering the windshield, summoning up again the finger-drawn hearts Maddy, with his help, had whorled over the glass during a weekend outing. Did she talk much today, Moran would ask the nurse each evening, and it was always one of the last things he would inquire about, holding the hallway door open, nodding his head as though he had expected that answer. And what did she do all day? Anything different? Oh, she loves to sit by the open window, content as a cat, smelling the cool fall breezes. And did she eat what I put in the icebox? Oh yes, she did, a little bit. And did she sleep at all today? Half the morning, once you left.
-Always Again
I can't tear away from the rape, from watching the man punch his power into the shaking flesh, appalled but aroused by the brutality of how easy it is, wanting to stop it but wanting to see it through, to prove beyond doubt that no matter how long a rape lasts, no matter how many times the cock slams dominance down and in, a woman won't ever give in, dreading that if I watch too long the awful truth will be that the big male hands will come off the thighs and the thighs will stay parted, shaking now with the pleasure they tried so hard not to have imposed. She raises her sideways-turned head off the grass while her fuck continues, a fuck so powerful that out of horrible acknowledgement of the unwanted pleasure of it her eyes close, her long bare legs lift, covered in grass blades and sweat, plump calves crossing above his pumping buttocks, soft flesh of her thighs molding around his hips in a guilty embrace kept secret from her protesting voice. As her hips begin to rotate, her cunt angles up wetly in a disgusting gesture of acquiescence, letting the pale cock pole freely within the ruby phosphorescence, and as the now open pleasure of the fuck seeps up her body her breasts swell, her nipples rise, and finally her voice itself finds out, wide lips squeezing out the ultimate betrayal, a long sigh that has no protest left in it, the final acknowledgement that her pleasure, now out, can't be recapped.
-The Rape
He and Viola took to spending a lot of time at the beach, getting their tans back. Looking at him standing by the water line, thin as a cartoon in his oversized bathing trunks, she would smile a slightly sad, vulnerable smile women sometimes get while looking at certain men in their lives; and whenever he floated on his back, waiting for the next wave to lift him, carrying on a conversation with her the whole while, she'd think how much his legs, refracted in the ocean, looked like a pair of rubber bands.
-Despair at McDonalds
"After dinner he takes me to a drugstore in the small town of the bistro. Even here, they sell American goods. He buys a roll of Reynolds Wrap very mysteriously, then parks his car on a bluff overlooking the Mediterranean, the waters phosphorous like they are filled with drowned ghosts. He can do anything at this point as far as I am concerned. Kiss me, insult me. Instead, he yanks off a length of the Reynolds Wrap and triumphantly stuffs it into his mouth, starting to chew. At first I am puzzled, right? But then as he continues to triumphantly chew, I understand. He opens his mouth to me, like a bad child at a picnic. I see the spittle-covered aluminum foil on his tongue, but also I see that he is in no pain. No fillings! His teeth are no longer bad. Capped, all of them! You have made it, I tell him'"
-Zombie Betrayal
"I think you deserve a little something extra. Say it's for services rendered." Broome tossed a few dimes and quarters at her. She didn't react. After he left she scooped up some more liquid sand and added another tower. She glanced casually over her shoulder to make sure he was gone. His sinking footsteps led up to a cluster of toes and soles about twenty feet behind her back, then trailed off again towards the boardwalk bridge. She picked his coins up one by one. They were the new style ones, made without silver. She pressed each of them into the soft sides of the castle, where they gleamed in the low light like knights' shields.
-Always Again
Its little dark head twitches around, antennae lagging a moment behind each jerk. It points its gaze briefly at the huge, fuzzy bulk of Coriander, then tilts its head sideways to an angle a human could never manage. It stretches its neck out towards a nearby grass blade. Its tiny turtle's jaw vibrates against the side of the sprig, and when it retracts its head to where it is no longer eclipsing the blade, there's a ripple-edged cuticle missing. It holds its head absolutely motionless, not even swallowing, and then, unexpectedly, its small ebony head twitches in a sneeze. Coriander tosses a piece of popcorn at the butterfly.
-Nearness
I don't want you to think that I made the 'first move' either, dearest-- she did. We were both in our swimsuits out back, and she started brushing my hair for me, because I had complained it was hard for me to do it, deliberately sitting down right in front of me on the chaise lounge while she did it so the only thing I had to look at were her gleaming teeth and her breasts, which you know I've always had kind of a weakness for, since they're so full and flawless and there was that time long before all the rest when she grabbed me by the scruff of my neck and pulled my face back until it hurt, then rubbed her fat, warm breasts over and over across my face until my tongue just had to flicker out at the nipples each time they skidded past my lips, and I wanted her so bad then the tears ran down the sides of my face into my ears, muffling my hearing. Well, it was sort of like that this time too.
-When You Surfaced
He held the chain of balls like a snake, so that the first one was by itself in his right hand. "All right Mr. Moran, we're going to start placing the spheres now."
-Always Again
Bodies have no conscience.
-Father Figure
"Is it true some waitresses have a slot in their left shoulder?"
-This Moment of Brilliance
"We are the sieve which is a solid sheet of stainless steel."
-Big Inches
"I have been assured there will be two towels. One on her before I ever lay down on her, another towel wrapped around me covering my genitals. Two thicknesses of towel." "American towels or European?"
-Zombie Betrayal
"You be my husband and I'll be me." She giggles. "Okay?"
-Kid
"Sex has gotten boring. I've just fucked too many times. I wish I had known this years ago, I would have been more selective. There were quite a few women I've fucked I could very easily have done without."
-Beaten Up By Girls
"I don't want to do anything fancy with her. Just make love to her. Maybe marry her some day."
-Kid
"I'm throwing a party at my place tonight. Swimming and steaks. I want you both to come. Talk her into wearing a tiny black string bikini and I'll give you a blow job the minute I'm able to get away from my hosting chores."
-Father Figure
"They know death is not punishment. It's release. Especially if you're lying on a floor bleeding out of fourteen holes kicked into you. Most guys, when they do finally get caught, they get really scared, looking up at the man who's got them where he wants them, trying to read his face. Is he going to kill me? He 's reaching in his pocket. Is he gonna pull out a gun, or a syringe?" Ed passed his big hand over his thin hair, smoothing it on his scalp. "You always pray it'll be a gun."
-This Moment of Brilliance
"They had me lay on the carpet in the living room-- they gave me some pillows so the friction wouldn't redden the lowest part of my back, and they get in a curving line behind me in their underpants, waiting their turn. One of them snapped a horrible picture of it that was to come back to me over the years like a bat, me on the floor smoking a cigarette with my legs spread while a man licked me and others were lined up behind, you could see their hairy, skinny legs up to their underpants in the picture. It was so ugly in the picture. Made me feel like a whore when I saw it."
-Zombie Betrayal
One of them presses down rhythmically on the chest just below the sternum with his hands crossed one over the other while another pinches the nostrils and starts the long, tedious task of trying to get the body to breathe on its own. Others gather around now, emerging out of doorways bare-chested and still eating, hanging onto the railing or wedging their tattooed forearms into portholes, most of them having been brought back the same messy way at one time or another. All watch the struggle silently, their lowered faces as tense and empathetic as though the three barely moving figures on the creaking deck were making love.
-Red Boat
I grew up next to an ocean. Specifically, the death-dark, black and emerald waters of the Atlantic Ocean. So many sailors drowned in it over the centuries of wood on waves each crest smashing and sliding up to sand castles and discarded white-paper hot dog holders must have held within its popping bubbles a thousand soggy exhalations. An activity back then was killey catching. Killeys are small fish about the size of sardines. They were meant as bait fish, though I suspect they were caught more for the joy of netting a heavy quantity of activity than they were for any practical use. You'd employ a rather peculiar contraption: a large square of window screen reinforced on each side with a thin length of wood, cord from each corner slanting upwards and inwards towards a knot in a stick that was lowered, fish pole style, into the water. In the center of the screen would be a couple of rocks to sink the mesh, plus hunks of wonder bread encased in wrapped-around window screen. You'd leave the screen submerged for at least half an hour, a long time for a kid, with nothing but the opposite shore to stare at, then haul it up out of the ocean. In the downward-bowed center of the square screen you'd raise up a hundred or so killeys, their small tails flipping the sea water away, plus, startlingly, occasionally, the long, snakish menace of an eel whipping around the sagging bottom of the screen, gliding darkly over the startled silver of the killeys. Whenever we lifted an eel out of mid-swim, my grandfather would snatch it by its finned tail, haul its wriggle up out of the net, and swing it over his head in a swift downward arc ending with the small dark head bouncing off a land-based rock. Curved fishing hooks popped up into its tough tail, its length would be hung upside down and the black skin yanked down the muscular curls, baring the pearly grey of meat, the ribbony sheath snapped down off the spasms of its head.
-Deep Shrimp
"I keep pushing my face harder and harder between her cheeks. Trying to wiggle my tongue really deep up between her cheeks to please her. My face is actually starting to go up inside her. But by then it's like quicksand. I can't pull my face free. My hands are caressing the smooth backs of her beautiful fifty-four year-old thighs, feeling their softness, their muscular shapeliness, so much sexier than my own, trying to keep the rest of my head from getting swallowed up by her asshole. And there's like this horrible moment where I realize that I could pull my head out if I really, really want to." Sally grunted. "But I don't want to."
-Father Figure
I watched him push his slim walnut ass up at me like an animal who only gets it seasonally.
-Sex on Sheets
Nana follows behind her, apron pockets bulging with wooden spoons and celery ribs and calculators, and a bottle of aspirin and a surgeon's scalpel, gently turning off each light Coriander has squeezed on.
-Nearness
That definitive first day of Spring came, rare as a rainbow. They could smell the earth thawing. They could see the breezes turn green as each hard bud in town exuded its own tiny scent of rebirth up into the air.
-Always Again
"I'm divorced from my family in every way except not living with them, but all the dogs in the street have my father's eyes."
-Kid
Men love touching babies, love putting their fingertips on them, letting the fingertips trail, knowing the baby came out between the mother's legs. Like trailing the fingers up there, in there, across the pink hairs on the bald head, while everyone stands around smiling.
-When The Big One Thaws
"Fuck. We're all just insects eating other insects."
-Sex on Sheets
Two and a half fucks later, in the half life of their orgasms, in the afterglow of tears and erections, the charmingly-shaped brandy bottle is held up in the air by four hands and inverted, tongues sticking out to catch the last rolling drops.
-Red Boat
Sam smiled wickedly, showing between his lips his teeth, like showing on an outstretched hand a syringe.
-Father Figure
Between your middle-aged hands on the white wall a dark hole the size of a dime appears, then blood covers the hole, a big spray of it, clots starting to slide down the white paint. How'd that suddenly materialize? You feel a burn in your nose, thump at the back of your head. You try sniffing through your nose, but there's no longer any resistance to sniff against.
-Kid
For another minute Paula continued rubbing her cunt over Clark's closed-eyed face, riding the bones of nose and cheeks with her orange-haired Rorschach, then she lifted her wonderful sea smell off his face, looking down at him.
-Beaten Up By Girls
Children tend to have sex with each other. This truth stubbornly continues despite adults' best and worst efforts. No matter how well-buttoned the legislation, left alone in a tree house, a bird they've eventually given a name to, in their long hours up there, flickering down onto the wooden, paneless windowsill each time to watch, a boy and a girl still manage to wriggle out of and pull off their perfect toes any restrictions addressing them. Little boys still continue to find, in the parental disapproving loop, holes.
-Grinders
"Whenever I saw a bird frozen on the lane because of the frost I'd put that pencil under 'em and work 'em free from the ground, try to do it as fast as I could without hurting them, then pack that peat on my back again and put the little bird under my shirt up against my chest, give it a chance. But once it started kicking while I'm on my rounds I'd unbutton my shirt, take a look, and the birds, they always flew away, Maddy. None of 'em ever stayed."
-Always Again
"We placed you on your stomach every night in your crib, hoping you would die from sudden infant death syndrome so we could go back to our happy days of picnics and fucking on the kitchen floor with her back rammed against the stove or dishwasher, but there you'd be each morning, laying on your fat back, fingers and toes in the air wriggling for a tickle under the cartoon-character mobile we bought four months into Cinder's pregnancy."
-Daddy's Glad Hands
In the undulating green there, rising up out of the dark emerald below, long, upright, thin strands of what looked like yellow in the bright green light. His face mask turned towards me. Something to look at! The thin, rising yellow strands seemed like they might be the explorations of something living. With his free black-gloved hand he delicately waved the dark green kelp out of the way, teasing the yellow strands away from the pods until the strands were free, floating a yard wide in the cold, dark underwater, and just as high. Thumbs-up signal to me. We had discovered something, some meek marine mollusk, maybe. Since he had gloves on he didn't mind digging down into the yellow strands, into the jungle of kelp underneath, pulling up, pulling up, dislodging, until the slowly swirling yellow strands rose, and a pale upright oval hardness followed underneath. He let go as the forehead rose, then the closed eyes, the open mouth; paddling backwards, almost breaking his connection with my hand. Grasp shaking in mine, but grasp even tighter, he waved himself a little closer, looking at the young girl's face, her long blonde hair swaying witch-like above her. Gesturing to me, he reached further down, digging in the kelp for an armpit. I found the other one, and we hoisted her up out of the kelp, into our garish green light, her drowned face revolving backwards on her neck under our flat illumination, mouth open, pearl and pink, gentle, frozen; her naked body rising, tethered to our black-gloved hands, lovely, slender, swaying, lost, caught amidst the white bubbles floating up from our mouthpieces.
-Visibility
"The girls don't want the guys to know how good it feels to get fucked."
-Father Figure
Across the flat grey slats of the privacy fence, above the green azaleas, the slowly rotating spray beats the damp silhouette of a Chinese parade caterpillar.
-Kid
Take a drinking glass, either the tall, straight-up-and-down variety or the Coca-Cola shape whose woman's curves embrace dark ice and effervescence, and loosely fill it with tablespoons of good vanilla ice cream, the type speckled with dark flecks of vanilla bean.
-Float
"I'd offer you some of this, but it's not what you think it is."
-Red Boat
We were young, and we were in Timbuktu.
-Always Again
"This world is controlled by puppets."
-Daddy's Glad Hands
"The best part, the part you never know about, the part he shows you. Letting someone you hate so much move his hands all over your body, showing him where all your buttons are, letting him push them one by one, taking his time, while each of you gloat over what he's doing to you. Helping him to reprogram you while you lay there for him using all your will power to not stop him, to let him slowly take your will power away from you, both of you grinning, eagerly anticipating the point where it's irreversible, where he's finally got you for good. It's rape, it's the worst rape, because you're showing someone you hate how to make you love them. That's the rapture. Cooperating."
-Father Figure