BUY MY BOOKS | HOME | FICTION | ESSAYS | ON-LINE DIARY | MARGINALIA | GALLERY | INTERACTIVE FEATURES | FAQ | SEARCH ENGINE | LINKS | CONTACT
www.ralphrobertmoore.com
the official website for the writings of
ralph robert moore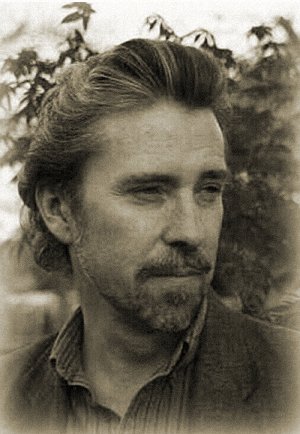 Entering the Iron Train is copyright © 2000 by Ralph Robert Moore.
Print in HTML format.
Return to one-paragraph stories.


one-paragraph stories
---
entering the iron train
Entering the iron train through the doors that snap open steam people heads down pushing to get out pushing to get on seeing her in the opposite push don't recognize her then do the eyes after all these silent years you'd talk for hours in the woods by the green river sharing town secrets some of your own secrets watching a frog try to climb a tree both shy and skinny her blue eyes sharp angles of her face her long hair you went to the city together not that large a city not as large as this one got your first apartment together each room was at a lower level than the one in front of it you both had to step down step down to get from the front hall to the bedroom at the very back off the kitchen a little balcony large enough to hang towels your arm around her slim waist you both looked down at a side street two stories below a mexican restaurant we'll eat there once we find jobs the two of you never found jobs you left her behind she called crying on the phone begging on the phone with her hometown accent you lost but she'll get over it putting the weight of the phone down on her questions whole life ahead of her and here she is decades later in the steam you can only recognize her eyes in a face so wide and fat that skinny brave girl buried in the fat buried buried buried dead you look down at your shoes before she recognizes you accidentally bump into her bulk feel her flinch.