my earliest memory
---
jenny armstrong's earliest memory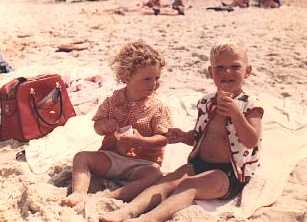 My sister was lying in her pram, she must have been a few months old. I am eighteen months older than she is.
She was all alone in her bedroom, in a very tall pram, with springs and a metal crossover toward the wheels; the floor was buffed up shiny, red.
My mother came in and said, "look after your sister for me, because I'm going out for five minutes."
I said, "What shall I do?"
"She said, "If she cries, give her something to play with!"
Naturally, I took this command very seriously indeed. I watched over her intently, although I could not see up into the pram without my tiptoes.
I wondered what I should do to keep her happy. She burbled so I knew she was awake.
I looked around for toys, but there was nothing for her to play with. My mother had said, "give her something soft".
I found some butter in the fridge, and it was soft. I took the lid off and dropped the butter over the edge of the pram, for my little sister to play with.
Jenny Armstrong may be reached at scratchy@mail.dodo.net.au. Please take a moment to visit her website Unique African, which features her literary pieces, all of them quite impressive, on a variety of subjects.
read the next memory
go back to the previous memory
return to share your earliest memory
---
YOUR EARLIEST MEMORY