SENTENCE Publishing
---
Introduction
SENTENCE Publishing is a small, independent publisher dedicated to publishing the work of Ralph Robert Moore in trade paperback and downloadable formats. Inquiries should be addressed to robmary@swbell.net.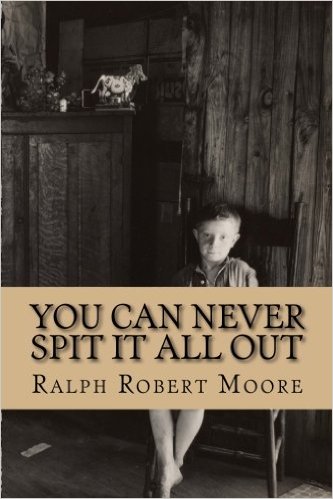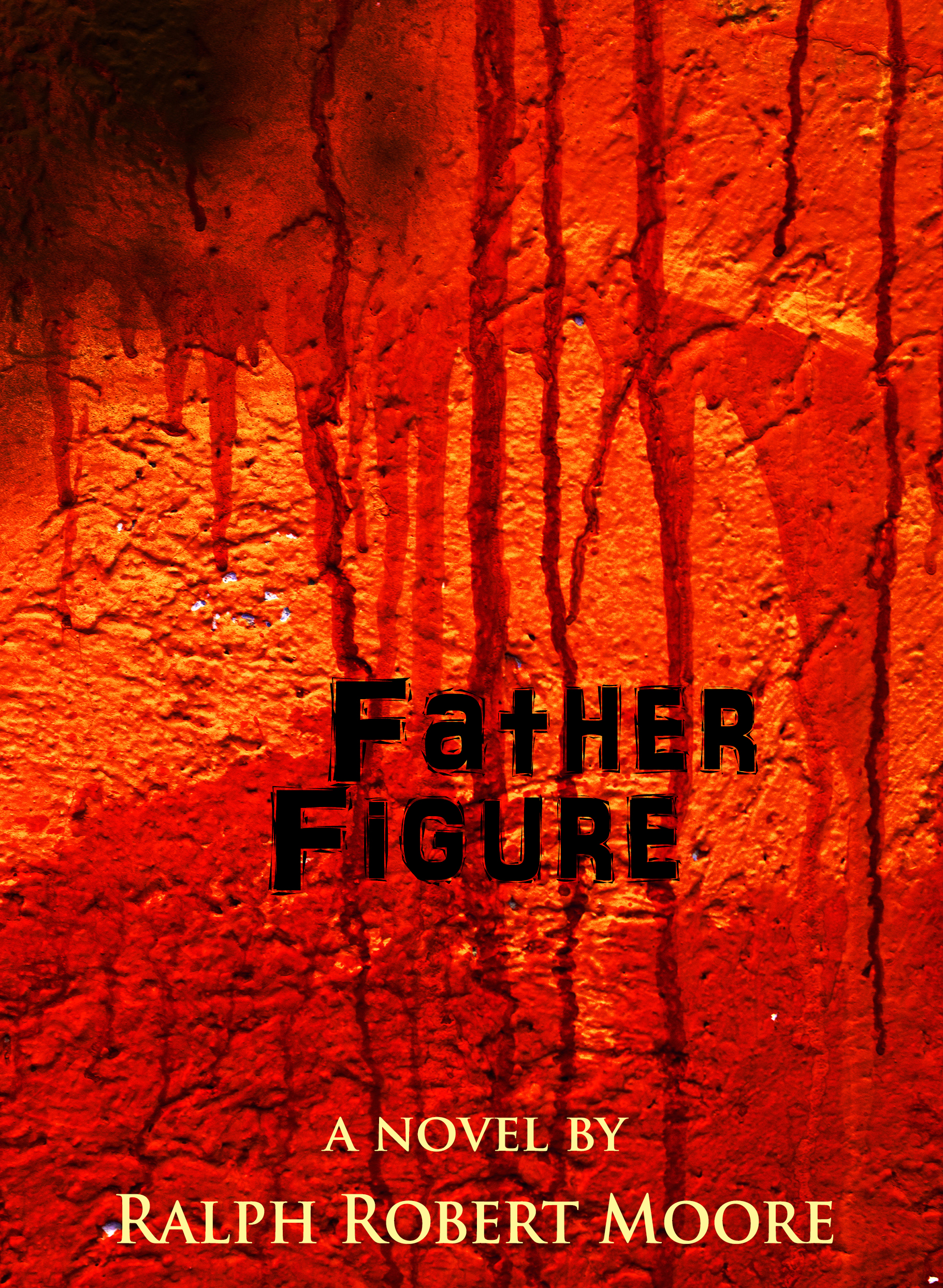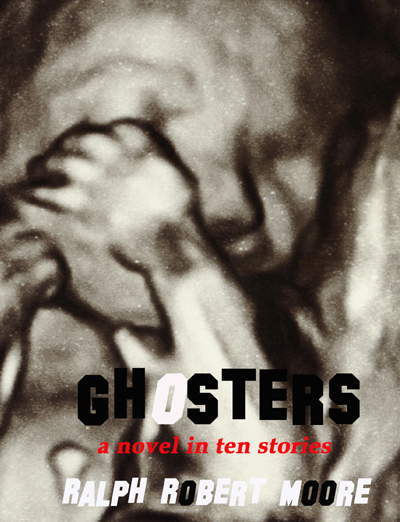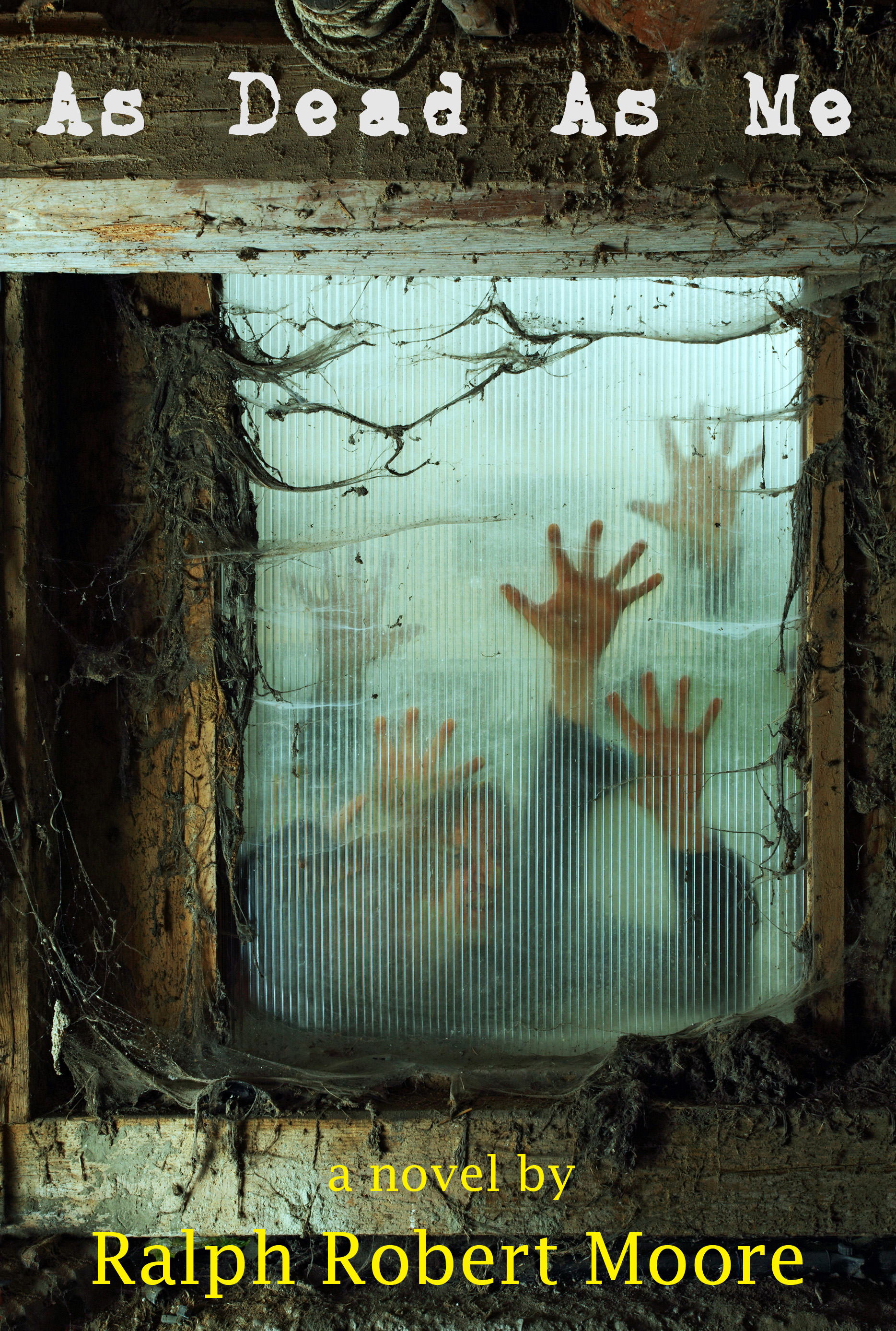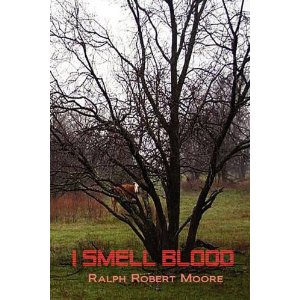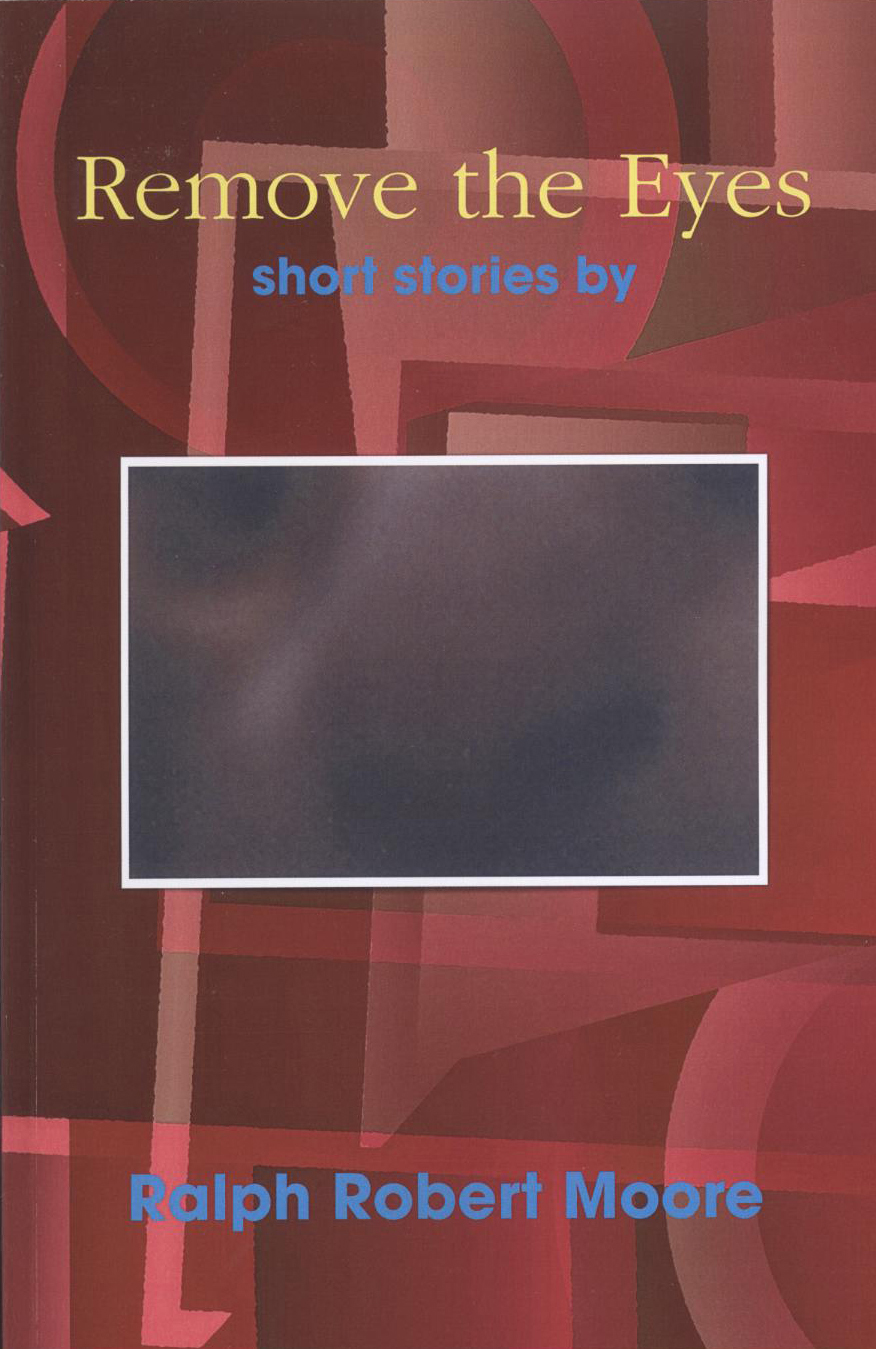 You Can Never Spit It All Out
---
10 novelettes




Amazon Trade Paperback US
Kindle Edition US
Amazon Trade Paperback UK
Kindle Edition UK

10 horror novelettes by Ralph Robert Moore. 400 pages. 120,000 words.

Includes "Dirt Land", nominated in 2016 for Best Story of the Year by the British Fantasy Society.

Children born with four feet. A man physically attached to three other men. A pushy waitress. A woman who dresses up as Santa Claus on Halloween. An off-campus NYC apartment overrun with tiny, crawling faces. A tomato with spikes sticking out of its red skin. A third rate stand-up comic who insists he isn't gay. A lonely woman who constructs a tabletop village of miniature buildings wherever she moves. A widow who's visited by God in a dream, singing instructions to her about the structure He wants her to build. A psychiatry student who has to convince a handcuffed serial rapist to sit on a toilet seat to reconnect with his childhood.

Featuring 3 novelettes from Black Static, "Dirt Land", "Kebab Bob" and "Drown Town"; 3 novelettes from Midnight Street, "They Hide in Tomatoes", "Nobody I Knew", and "Suddenly the Sun Appeared"; 1 novelette from Hellfire Crossroads, "She Has Maids", and 3 novelettes never before published, "During the Time I Was Out", "Imperfect Boy", and "Boyfriend".

"Up on the mountain, not everything that gets born is human. Or at least, human enough. That's just the way it is. Some of them are kept, if they look close enough, but a lot are taken down to the river before they get big, and drowned. Shaken out of a blanket. If you go downstream, you'll find all kinds of dead babies bumping against the gray river rocks. Stiff limbs, open mouths. Getting picked at by fish. Of course, up on the mountain, the people who live there catch that fish, like they catch all fish. Fry it. Eat it. That may be part of the problem."

--Opening paragraph of "Dirt Land"

Amazon Trade Paperback US
Kindle Edition US
Amazon Trade Paperback UK
Kindle Edition UK


Father Figure
---
novel
Amazon US Trade Paperback and Kindle
The full text of Father Figure is now available in new trade paperback and Kindle editions, with a 2015 Author's Preface, and an appendix which includes 6,000 words in deleted scenes.
Father Figure is also available at all other Amazon sites worldwide, and additional online venues. 175,000 words, plus 6,000 words of deleted scenes.
South of Anchorage, accessible only from a mud-rutted road off Seward Highway, lies the town of Lodgepole. After midnight, among the blueberry bushes of White Birch Park, a man climbs on top of a woman and begins making love to her. As her orgasm rises he puts his hands around her throat, shutting off her air. She struggles, not to stop him, but to stop herself from trying instinctively to pull his hands off her throat. As the top joints of his thumb meet at the front of her throat she comes, her cry of orgasm ricocheting around inside her forever.
Daryl Putnam, handsome, bookish, wakes up from a nightmare and decides to do something he hasn't done in years. Take a walk outside at night. Down in the park, at the lime green shores of Little Muncho Lake, he comes across the body of the strangled woman.
The next morning, at the coffee shop of the hospital where he works, Daryl meets Sally, a pretty, dark-haired girl. He's intelligent, she's outgoing. What they have in common is both are living lonely lives. Until today.
Also in the hospital coffee shop, shaking half a can of black pepper onto his tomato soup, is Sam Rudolph, a fiftyish man with eyes like an angry dog's, who has spent over twenty years quietly manipulating events in Daryl and Sally's lives to have this seemingly chance encounter among the three of them occur.
And who is actually a lot older than fifty.
Here's an editorial review of the novel:
It is easy to see why Father Figure has become an underground classic over the years. It is a dark, extremely disturbing but completely gripping suspense thriller with a strongly erotic subtext. At over 450 pages, it is not light reading, and it is certainly not a book for the light hearted or for those with a weak stomach. Moore is an extremely talented writer with a gift for pushing the reader's emotional buttons. He injects his work with a bleak, almost Kafkaesque undertone, but doesn't fall into the trap of contextualizing his story in terms of morality. One of the most notable aspects of Father Figure is that there are no heroes; all the characters are fundamentally flawed, and that makes the story all the more engaging. It is doubtful that this story will appeal to a mainstream audience, but it is certainly liable to become a cult classic, and deservedly so.
Artist Jason Mcaloon is in the process of reimagining the entire text of Father Figure as a typographical design project. Here's his interpretation of the opening page of the novel. Jason's website is located here.

Amazon US Trade Paperback and Kindle


Ghosters
---
a novel in ten stories
Amazon Kindle US
Amazon Kindle UK
Amazon Trade Paperback US
Amazon Trade Paperback UK

"…Moore has written a book that contains a thoroughly original and totally convincing portrayal of the supernatural world, one in which cosmic vision and human feeling collide. I loved every single page of it, not least for the wealth of incidental detail and the assured way in which Moore so often circles around the crux of each story, slowly dragging it out into the light of day, letting us see and experience what is really at stake. It does for ghosts what his novel As Dead As Me did for zombies, with bells on."
Peter Tennant
"These are not ordinary ghosts and the Ghosters are far from being normal individuals. The ghosts are startlingly original creations from the mind of one of the most accomplished writers in the field…The solutions to the hauntings are spectacularly horrifying.
"Once again, Ralph Robert Moore has produced a startlingly original book that surprises and unsettles with every page turn. He has seamlessly fused these elements with a genuinely sympathetic understanding of character and personal tragedy that propels this collection into the literary stratosphere.
"His work inspires as it reinvents familiar themes, infusing them with something that only the most talented writers can achieve: a sense of wonder that takes your breath away."
Trevor Denyer
"Ghosters…are members of a small group who travel around America "curing" people of their hauntings…All are beautifully drawn characters…There's a lot of humour in this book then but there's also real horror-- the opening and closing stories in particular, set in the upper floors of a haunted mall, contain some truly disturbing imagery--and there's also poignancy, often when you least expect it.
"The Ghosters themselves are wonderful creations and the skill the author shows in moulding them is also evident in the characters of the clients…[he] manages to invest all his characters with real personality and depth.
"[Moore]…is an extremely imaginative writer, coming up with some truly original ideas. That skill is demonstrated emphatically in Ghosters and I sincerely hope the world he's created here is one the author will return to in future publications. It's a book I urge you to buy."
Anthony Watson, Dark Musings
When someone you love dies, are they gone forever?
Meet the Ghosters, and the desperate people who hire them.
In our modern world, only Ghosters know what comes after death. What stays behind. And what dwells between.
Ghosters are a small, loosely-connected group of individuals who travel the highways of America curing people of their hauntings. For as much money as they can negotiate from each client. They are legitimate. But they are not nice.
Here are the known Ghosters:
Stan Costello. Works with Bud Hardy. Their specialty is buying and selling bottled ghosts. For the right money, they'll bottle a fresh ghost.

Clay (last name unknown). Homely. Cold. All the food he eats tastes like mud. The apparent leader of the Ghosters. Handles the more frightening cases.

Tilda Clem. Six foot seven. Never fit in anywhere. Somewhat sympathetic to the people she takes on. But not much.

Patrick Kelly. Tall Irishman with an onion-shaped head. Along with Stan and Bud, maybe the most human of the Ghosters. Will never say a bad word about anyone. But a lot of blood on his big hands.

Matt (last name unknown). Young African-American traveling with Patrick as an apprentice, to see if he'll fit in with the group. He has the talent. But does he have the stomach?
Imagine a building where only half the building is haunted (and the rest is a thriving shopping mall); a haunted doll house inside an otherwise unpossessed home; family estates that are hundreds of houses long, each new house attached to the front of the previous one, the older homes disappearing into the swamps like a centipede; a haunted house that travels across America. Imagine ghosts that can only manifest in water (like the inside of your dishwasher, or your shower stall); ghosts who believe they're still alive, pay their mortgage each month, and can interact with others; bottled ghosts that are bought and sold like vintage Coca-Cola signs; ghosts that pass their flaw down through the male descendants of a family, like color blindness; ghosts that were unwanted house guests in real life, and now won't leave even after they die.

If you thought life was complicated, find out what death is like. Ordinary ghosts aren't the only supernatural entity between life and death. There are neeks, plums, siliths, smudges, flesh ghosts, spirit ghosts, prayer ghosts, inbreeding ghosts, and that great white shark swimming in the sea between life and afterlife, The Fear Ghost.

The stories comprising this 95,000 word novel are ten known cases in which Ghosters were involved.

Amazon Kindle US
Amazon Kindle UK
Amazon Trade Paperback US
Amazon Trade Paperback UK



As Dead As Me
---
novel




Amazon Kindle US
Amazon Kindle UK
Amazon Kindle Canada
Amazon
Amazon UK
Amazon Canada
iTunes, iPhone, iPad, iPod
The NOOK
Lulu




"It takes something special to interest me in a zombie novel, and this really is something special. Relentless, unsentimental, and with a plot that moves like a freight train. You want bleak? Read this…an excellent novel from an excellent writer."

Gary McMahon

"By making his characters so fully rounded, Moore gives us a reason to care about them, and this in turn makes the book's resolution all the more poignant and painful… These are just ordinary human beings, acting with common decency in the face of the unacceptable…Moore has written a zombie novel, but it's not just another zombie novel. He takes the familiar and makes it heartrendingly sad, but not at the expense of the action fans of this subgenre will have come to expect from zombie fare."

Peter Tennant, Black Static 37

"Rob Moore has done it again; turned a conventional theme of zombies and all the genre cliches that go with it into something that rises so far above the ordinary that it takes your breath away (no pun intended!). This book has depth. It is not only a visceral tour de force, but has the advantage of Moore's extraordinary imagination being brought to bear, introducing characters and situations that you care passionately about. Without giving too much away, the climax to the story astounds the reader by its spectacular, heartrending audacity. A brilliant achievement."

Trevor Denyer




A first person account of the zombie apocalypse, from its beginnings to its end.

The dead are rising. As Dallas falls, Jack and several other survivors are rescued by an Army patrol and taken by ship to a remote island off Indonesia where, under the leadership of the Colonel, they'll try to rebuild the human race.

That effort involves dangerous military forays, including an assault on an oil tanker infested with the dead, to have a generation's worth of fuel for the island; and a long train journey up the Asian continent to rescue a group of humans holed up in a women's prison.

Jack, whose life before the fall had been aimless and filled with anger, grows as a person as he tries, for the first time in his life, to make a difference. He starts to reach out to the other people on the island with him, including Sergeant Weiss, a big man with close-cropped hair, and a bit of a bully, who leads the missions in which Jack participates; Lt. Hoch, a thin, cold, by-the-books army officer who only cares about results; Dr. Dannon, a medical theorist with slicked black hair who has some unusual ideas about how to rebuild the human race; Marcie, a pretty, pregnant woman who gets close to Jack; and The Colonel, a homely, near-retirement career military man and widower who has been thrown into the role of leader.

Part military novel, part adventure story, part horror tale, As Dead As Me follows a group of desperate men and women who try to be strong enough, organized enough, and brave enough, to take back the world. If they don't succeed, mankind is extinct.

If you want to order As Dead As Me from your local bricks and mortar bookstore, the ISBN is 978-1-300-35503-8.

Amazon Kindle US
Amazon Kindle UK
Amazon Kindle Canada
Amazon
Amazon UK
Amazon Canada
iTunes, iPhone, iPad, iPod
The NOOK
Lulu



I Smell Blood
---
short story collection
Amazon Kindle US
Amazon Kindle UK
My Storefront
Amazon
Amazon UK
Amazon Canada
Barnes and Noble
Abe Books
The Apple Store
Barnes and Noble's NOOK reader
"Disturbing. Nightmarish. Terrifying. And above all original. Ralph Robert Moore's new collection is unlike anything else I've read all year. All decade. It's also bloody good. I Smell Blood, Ralph Robert Moore's second short fiction collection, reinforces his reputation, amongst those in the know, that here we have a genre-storytelling giant in our midst…this is a surefire cult hit which deserves wider recognition…Moore manages to distill the best qualities of horror writing and produce something which is unique…conventions go out the window, and through it, something far more beastly crawls…Moore lends you his eyes (or lets you hop into his head, a la Kid) and it is a very, very dark place indeed…Moore here tackles deep themes. Beyond the white picket fence themes. Sex games, gender relationships, obsessions…the deepest horror here are the things which human beings are capable of doing to other human beings."
AJ Kirby
The Short Review
"With eight stories and the short novel "Kid", the new collection…combin[es] horror and gonzo invention in a winning combination, with an unadorned prose style that…drives the narrative forward at a cracking pace and allows for moments of surprising tenderness.
…Finally we have the short novel "Kid", weighing in at approximately a hundred and twenty pages, and the undoubted highlight of this collection…The novel's eponymous hero is a young man with the ability to head hop, to enter and insinuate himself into the mind of another and eventually seize control of his body…there's plenty of explicit sex and violence, with the scenes in which a man's face is removed particularly horrific…crime lord Knuggles is a master stroke of invention…the man oozes menace, and I cringed in anticipation of something terrible taking place every time he held centre stage…A particular highlight is the dazzling and vividly cinematic shoot out at a restaurant when the kid takes on another head hopper, each of them controlling a selection of stooges.
..."Kid" was a wonderful finale to one of the best collections I've read this year, delivering exactly the kind of uncompromising thrills and spills I've come to expect from this writer."
Peter Tennant
Black Static 24
"Ralph Robert Moore's second collection confirms the excellent qualities displayed in his previous book "Remove the Eyes", namely a powerful imagination, an extraordinary degree of originality and a great storytelling ability… A highly recommended book."
Mario Guslandi
HORRORWORLD
"One thing that is very evident from the moment you start reading [I Smell Blood]: these stories are far from predictable…The characters here inhabit surreal worlds grounded in reality but full of outrageous surprises.
Visibility [is] a tale so rich in character and atmosphere that it takes your breath away….["Afoot"] drills deep into what motivates people to want to break away from a society that confines our base instincts... The novel, "Kid", is a faultless mix of sure-fired observation…that hinges upon a plot that combines a dark and morbid supernatural ability with a crime mystery…Once more, the author has created a fascinating ensemble of characters…
Moore's work is consistently fascinating, original and devastating. His characters speak to you from whatever hell they inhabit, with clear, unambiguous voices...[I Smell Blood] is a worthy successor to Remove the Eyes."
Trevor Denyer
Midnight Street 15
I Smell Blood tied with Justin Isis' I Wonder What Human Flesh Tastes Like for Peter Tennant's award of Best Short Story Collection of 2011. "…If I were to do a 'Top Thirty Short Stories of 2011' list, they would dominate it… Each is a superb stylist and each has a unique voice…Moore crafts tales that bristle with attitude and energy…"
I Smell Blood is my second short story collection, a follow-up to 2009's Remove the Eyes.
I Smell Blood gathers together eight short stories, plus the full text (46,000 words) of my short novel, Kid. Almost 100,000 words in all.
THE LITTLE GIRL WHO LIVES IN THE WOODS (4,200 words) - Originally published in 2006 in the anthology Read By Dawn, edited by Ramsey Campbell. Honorable Mention, The Year's Best Fantasy and Horror, 20th Edition. Cory, a boy with problems, ventures into the forest behind his cul-de-sac to search for a little girl who legend says wanders through the woods holding a white stone she thinks is her doll's head.

IN THE TUNNELS OF THE AGOGS (6,900 words) - Originally published in 2009, in Dark Horizons, Issue 55. Honorable Mention, The Best Horror of the Year, Volume 3. Harry and Sarah, honeymooning in the islands, are returning with other tourists from a day spent exploring the island's underground quartz caverns, when their bus breaks down on a dark oceanside road. They climb a nearby hill so Sarah can relieve herself, at which point they hear a heavy thumping behind the bushes.

RAIN TURNS TO SNOW (3,100 words) - Originally published in 2010, in Dark Horizons, Issue 56. Honorable Mention, The Best Horror of the Year, Volume 3. After the latest argument with his wife Meg, Jake gathers up his outdoors equipment, and spends the night camping out in the mountains of Montana. When he returns home the next day, he doesn't realize - at first - that he's brought something cold and evil back from the mountains with him.

VISIBILITY (5,800 words) - Originally published in 2001, in ROADWORKS, Number 11. Honorable Mention, The Year's Best Fantasy and Horror, 15th Edition. Reprinted 2006, Revelation, Volume 3, Number 3. Reprinted 2006, in the anthology Revelation III, edited by Brian A. Dixon. Two men go on a night dive off the California coast. Half a mile out, they discover a naked blonde-haired girl underwater, wrapped within the tall, swaying tendrils of green kelp. Pulling her to shore, they decide to take her body to the nearest Sheriff's substation, to report her death. At the time, it seems like a good idea.

WHEN THE BIG ONE THAWS (7,000 words) - Originally published in 1999, in Fugue Magazine, the Summer issue. Philip and Jill move back to Maine, after an attempt to live in Colorado fails. They wind up in an apartment overlooking a frozen pond, where talk has it a giant frog lives, on the green bottom. Philip is unhappy they're back in the same town where Jill's former boyfriend Raymond lives, plus each night Philip and Jill are hearing louder and louder sounds coming from that thawing pond.

AFOOT (7,400 words) - Never before published. All Mason wants to do is pick up his tuxedo from the dry cleaner's and head over to his fiancé's home, where her rich daddy is hosting a dinner for the mayor. Unfortunately, the young woman behind the counter, black bangs and a plain face, can't locate the tuxedo. She off-handedly asks him to come back next week. Mason, desperate not to miss this important dinner party, kidnaps her and drives her all over Dallas, trying to get her to tell him where the owner of the dry cleaner's lives, in the hopes that the owner will take his problem more seriously. This battle of the wills escalates as the clash between the two of them becomes more and more dangerous.

THE MAN WHO COULD JUMP OFF ROOFS (9,500 words) - Never before published. Charley has moved into a new neighborhood following the death of his wife from liver cancer. He's woken up in the middle of the night by his son Johnny, who owes the sinister Mr. Miller, who "doesn't take no for an answer," thousands of dollars. Johnny pleads with his father to help save him, but Charley could care less. At a welcome to the neighborhood backyard barbecue, Charley meets the divorced Missy, who owns a The Buried Dog hot dog franchise. During the barbeque, Charley shows everyone what's unique about him, by climbing up on the hosts' roof, and jumping off without any injury. Missy is so impressed with Charley she offers him the manager position at The Buried Dog. Just as Charley's life is turning around, Johnny tells his dad Mr. Miller wants to meet with him, in a bad part of town, to settle Johnny's debt.

FLEEING, ON A BICYCLE WITH YOUR FATHER, FROM THE LIVING DEAD (6,000 words) - Originally published in 2006, in Midnight Street, Issue 7. Honorable Mention, The Year's Best Fantasy and Horror, 20th Edition. Reprinted 2009, in the anthology The World is Dead, published by Permuted Press, edited by Kim Paffenroth. Honorable Mention, The Best Horror of the Year, Volume 2. In the new world created after the zombie uprising, when the living dead are still a threat but somewhat controlled, Nate makes a journey from his family's boarded-up home to the municipal water works where his father works, to make sure, for the sake of his kid sister Tess, that their father is safe. But getting their father back home proves difficult when a zombie chews through the ignition wires in Nate's car (the dead love eating electricity), and Nate and his father have to journey by foot and bicycle through a landscape of long, dark roads and newly-risen dead.

KID (46,000 words) - Never before published. You're seventeen, trying to break into the dominant crime mob in northern Texas, run by the police, specifically by Knuggles, a police captain who performs with a monkey as 'Officer Clean' at junior high schools, owns a string of pizza parlors, and wears a red plastic mask twenty-four hours a day. During your interview with Knuggles you also meet Darla. She's older than your girlfriends, probably in her twenties, which intimidates you, but when she has her back to you she lets her right foot trail behind her, sneaker pulled up so only the rubber toe is touching the floor. You get excited, because you know a woman sometimes does that to get a man to look at her legs, which means she probably doesn't mind you looking, may even want you to look, even though you are just a kid. To her. Your one advantage in life is you're a head-hopper. Like any gift, head-hopping has its rules. If you eat what someone else has eaten, you can hop into their head and control them like a puppet, although both you and your puppet will get colder the longer the head-hop goes on. If there are any iron-soluble vegetables nearby, you become trapped in your own head. Knuggles wants you to hop into the head of a government official who has a very important number in his mind. You'll have to hop into the official's head several times before the big hop, so he doesn't become aware of your presence in his head. The big hop itself will take place in a busy, California restaurant. If the hop works, Knuggles has promised he'll let you be a member of his mob. That means lots of money. You'll be able to take Darla out to fancy restaurants, buy her things from the catalogs you love looking at. If the hop works. And if Knuggles is true to his word.



Amazon Kindle US
Amazon Kindle UK
Amazon Kindle US
Amazon Kindle UK
My Storefront
Amazon
Amazon UK
Amazon Canada
Barnes and Noble
Abe Books
The Apple Store
Barnes and Noble's NOOK reader

I Smell Blood is also available for order through virtually any bricks and mortar bookstore.

The ISBN for I Smell Blood is 978-0-557-63876-5.

I've created a promotional video of me reading excerpts from each of the nine fictions in I Smell Blood. I hope you enjoy it.






Remove the Eyes
---
short story collection
Amazon Kindle US
Amazon Kindle UK
My Storefront
Amazon
Amazon UK
Amazon Canada
Barnes and Noble
Abe Books
"Tired of the usual suspects? Bored with the same old genre clichés? Then follow my advice and read Ralph Robert Moore, a hell of a writer whose work is provocative and refreshing, never ordinary, always imaginative and graced by a compelling narrative style…Moore has all the features of a great writer: he conceives original plots, creates credible characters and makes them speak plausible dialogues, and, most of all, is a terrific storyteller. Try him, you won't regret it."
Mario Guslandi
Hell Notes
"…[Moore's] work is not quite like that of anybody else. He is a true original, someone who has taken on board the lessons of genre and mainstream, then harnessed both to his own ends, and if you are looking for something different, then I can't recommend this collection highly enough."
Peter Tennant
Black Static 14
"Unusual, erotic, frightening and stunningly good…This collection showcases the wide and versatile range of [Moore's] work. From the horrors of the internal demons that infest the wonderful "The Machine of a Religious Man" to the powerful and erotic, yet despairing "Rocketship Apartment", these stories capture the extremes of human experience. The writing is tight and uncompromising. The dialogue provides depth to the narrative, drawing the reader into shocking and unusual scenarios that stun, remaining in the memory long afterwards."
Trevor Denyer
Midnight Street 13
Longlisted for Best Short Story Collection of 2009 by the British Fantasy Society.
Honorable Mentions by Ellen Datlow to "My First Kiss" and "Like an Animal in a Hole" in Best Horror of the Year, Volume Two (2009).
Named by both Peter Tennant and Ellen Datlow as one of the notable short story collections of 2009.
Remove the Eyes is my first short story collection.
The collection consists of nine stories.
AFTER HERE (2,300 words) - Never before published. Tom is eating his lunch in a crowded pubic square in Portland, Maine when a pretty young woman comes up to him and asks if he'd like to play a game.

THE WOMAN IN THE WALLS (7,000 words) - Originally published in the anthology, Darkness Rising 2005 edited by L.H. Maynard and M.P.N. Sims. A girl Jack meets in a San Francisco bar invites him to come home with her, but warns him there's an incredibly obese woman who lives in the walls of her apartment.

THE MACHINE OF A RELIGIOUS MAN (8,000 words) - Originally published in Midnight Street. Reprinted in The Year's Best Fantasy and Horror, 19th edition, edited by Ellen Datlow. Long-listed as Best Short Story of the Year in the 2006 British Fantasy Society Awards. Bonay races in a car through the desert highways of New Mexico, trying to help his friend Gordon, who's crying in the back seat.

STRANGERS WEAR MASKS OF YOUR FACE (15,400 words) - Originally published in Theaker's Quarterly. Philip pretends to still be asleep in the middle of the night in his northern Wisconsin apartment, as strangers with knives gather around his bed.

MY FIRST KISS (10,000 words) - Never before published. Honorable Mention, Best Horror of the Year, 2009. A boy and girl who like to break into other people's houses for fun find themselves faced-down by an old woman with a shot gun when they break into a castle that's been transported stone-by-stone to Connecticut.

STEAKS IN THE CITY (7,000 words) - Never before published. Warren sucks up huge amounts of booze and drugs, then goes driving into Dallas to find his lost love.

THIS MOMENT OF BRILLIANCE (9,500 words) - Originally published in Lullaby Hearse. Ed, a wet work specialist, goes a little bit crazy in the Maine to Florida corridor while he's searching for a man with a secret.

LIKE AN ANIMAL IN A HOLE (10,600 words) - Never before published. Honorable Mention, Best Horror of the Year, 2009. David and Nell visit the Seattle town home of Nell's dead brother, trying to figure out how he died.

ROCKETSHIP APARTMENT (7,700 words) - Originally published in Midnight Street. Kevin meets Carla at a Los Angeles laundromat, and gets drawn into her plan to travel to the next galaxy.
Amazon Kindle US
Amazon Kindle UK
My Storefront
Amazon
Amazon UK
Amazon Canada
Barnes and Noble
Abe Books

Remove the Eyes is also available for order through virtually any bricks and mortar bookstore.

The ISBN for Remove the Eyes is 978-0-557-06893-7.

You can read the complete text of two of the stories in Remove the Eyes for free, to decide if you'd like to purchase the collection. Strangers Wear Masks of Your Face is available here. This Moment of Brilliance is available here. Both stories are in PDF format.

I've created a promotional video for Remove the Eyes. I hope you enjoy it.






A Woman Made of Milk
---
novelette
Amazon Kindle US
Amazon Kindle UK
Amazon Kindle France
Amazon Kindle Germany
"Ralph Robert Moore delivers a rare original story concept with "A Woman Made of Milk". This book is refreshing. Ralph Robert Moore has a fantastic storyline with one of the most original and unique protagonists ever. My only disappointment was that this well written book was too short. It left me wanting more. I would buy any sequel to this."
from a 5-star review by Patrick D on Amazon
"A Woman Made of Milk by Ralph Robert Moore is an odd title for an odd little story, but it was one that I very much enjoyed. This is a novelette about a woman who is a medium for hire that goes out to a rather unusual location. She was employed by a man who lost his wife, and is distraught that he can not see her ghost. But the house he brings the medium to is one that has been added on to for five hundred years; each new house is built onto the front of the previous one. That setting alone was enough to intrigue me and pull me in; this is not a typical ghost story by any means. Moore gives the reader something original and different with an ending I didn't see coming. This is a quick creepy read that I think is perfect for anyone looking for a new take on ghost stories. Highly recommended."
from a 5-star review by AnnBoozeandBooksBlogSpot on Amazon
NOTE: A Woman Made of Milk is included in my book, Ghosters. If you've purchased Ghosters, there's no reason to buy A Woman Made of Milk separately.
A Woman Made of Milk was an experiment on my part, to see how my stories do using Amazon's Kindle.
A Woman Made of Milk is an 11,000 word supernatural horror novelette set in modern day Mississippi. Tilda Clem, a six foot seven life after death sensitive, is hired by ninety year old Merle MacDonald, whose wife has just died, to find out why his wife's ghost has never appeared to him since her death. Finding the answer requires Tilda and Merle to journey with mules and shotguns into Chatterton, the family estate, which consists of hundreds of mansions built centipede-style, back to back against each other, by his wife's family over five centuries. The first dozen or so mansions the two must travel through are still fairly intact, but as they journey further back into the centipede houses, into the Mississippi swamps, the mansions become more and more deteriorated, and the pair must face dangers both physical and metaphysical.
Amazon Kindle US
Amazon Kindle UK
Amazon Kindle France
Amazon Kindle Germany