BUY MY BOOKS | HOME | FICTION | ESSAYS | ON-LINE DIARY | MARGINALIA | GALLERY | INTERACTIVE FEATURES | FAQ | SEARCH ENGINE | LINKS | CONTACT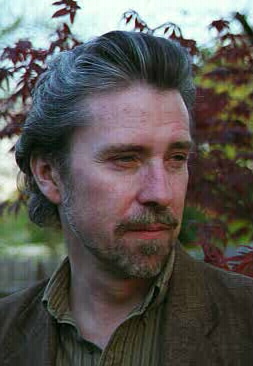 the official website for the writings of
ralph robert moore
www.ralphrobertmoore.com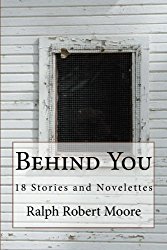 Behind You is my latest collection. 18 stories and novelettes. 400 pages, 110,000 words.
What crawls after midnight on elbows and knees into hospital emergency rooms?
Who hides in the woods waiting for hikers who get lost?
How could a 90-year old woman get pregnant?
Is a bird really a bird if it doesn't have any feathers or wings or head?
Is there a ghost in your best friend's attic?
Do dolls get cancer?
Can sharks attack someone on a cobblestone street?
Is it wise to have an affair with your dental hygienist?
What should you do when you suddenly discover you are male, and have a penis?
How do priests protect Latino boys from a young girl who likes to put her pet tarantula inside her mouth?
Why are you so drawn to a red-haired computer nerd who is indifferent to your beauty?
How does a middle-aged couple appearing together in Italo-Spanish-German low budget horror films maintain their relationship when the wife is now being cast in movies as a witch, while the husband still has sex scenes with actresses half his age?
When your toilet tells you that you need to get a screening colonoscopy, can your toilet be trusted, especially when your life is being filmed every day by a reality TV crew?
How dangerous, and in other situations quite useful, are bananas?
How many versions of you and the love of your life exist?
Is the world just one island, and endless ocean?
What are you hiding, where are you hiding it, and are you willing to submit to a rectal exam?
Amazon Trade Paperback/Kindle US
Amazon Trade Paperback/Kindle UK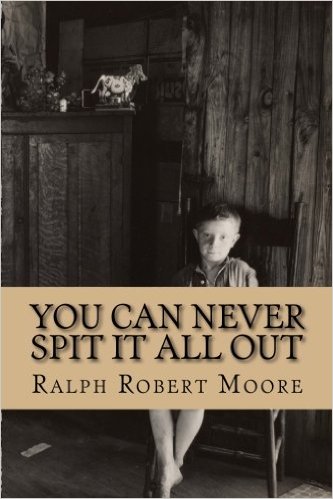 10 horror novelettes by Ralph Robert Moore. 400 pages. 120,000 words.
Includes "Dirt Land", nominated in 2016 for Best Story of the Year by the British Fantasy Society.
Children born with four feet. A man physically attached to three other men. A pushy waitress. A woman who dresses up as Santa Claus on Halloween. An off-campus NYC apartment overrun with tiny, crawling faces. A tomato with spikes sticking out of its red skin. A third rate stand-up comic who insists he isn't gay. A lonely woman who constructs a tabletop village of miniature buildings wherever she moves. A widow who's visited by God in a dream, singing instructions to her about the structure He wants her to build. A psychiatry student who has to convince a handcuffed serial rapist to sit on a toilet seat to reconnect with his childhood.
Featuring 3 novelettes from Black Static, "Dirt Land", "Kebab Bob" and "Drown Town"; 3 novelettes from Midnight Street, "They Hide in Tomatoes", "Nobody I Knew", and "Suddenly the Sun Appeared"; 1 novelette from Hellfire Crossroads, "She Has Maids", and 3 novelettes never before published, "During the Time I Was Out", "Imperfect Boy", and "Boyfriend".
"Up on the mountain, not everything that gets born is human. Or at least, human enough. That's just the way it is. Some of them are kept, if they look close enough, but a lot are taken down to the river before they get big, and drowned. Shaken out of a blanket. If you go downstream, you'll find all kinds of dead babies bumping against the gray river rocks. Stiff limbs, open mouths. Getting picked at by fish. Of course, up on the mountain, the people who live there catch that fish, like they catch all fish. Fry it. Eat it. That may be part of the problem."
--Opening paragraph of "Dirt Land"
Amazon Trade Paperback US
Kindle Edition US
Amazon Trade Paperback UK
Kindle Edition UK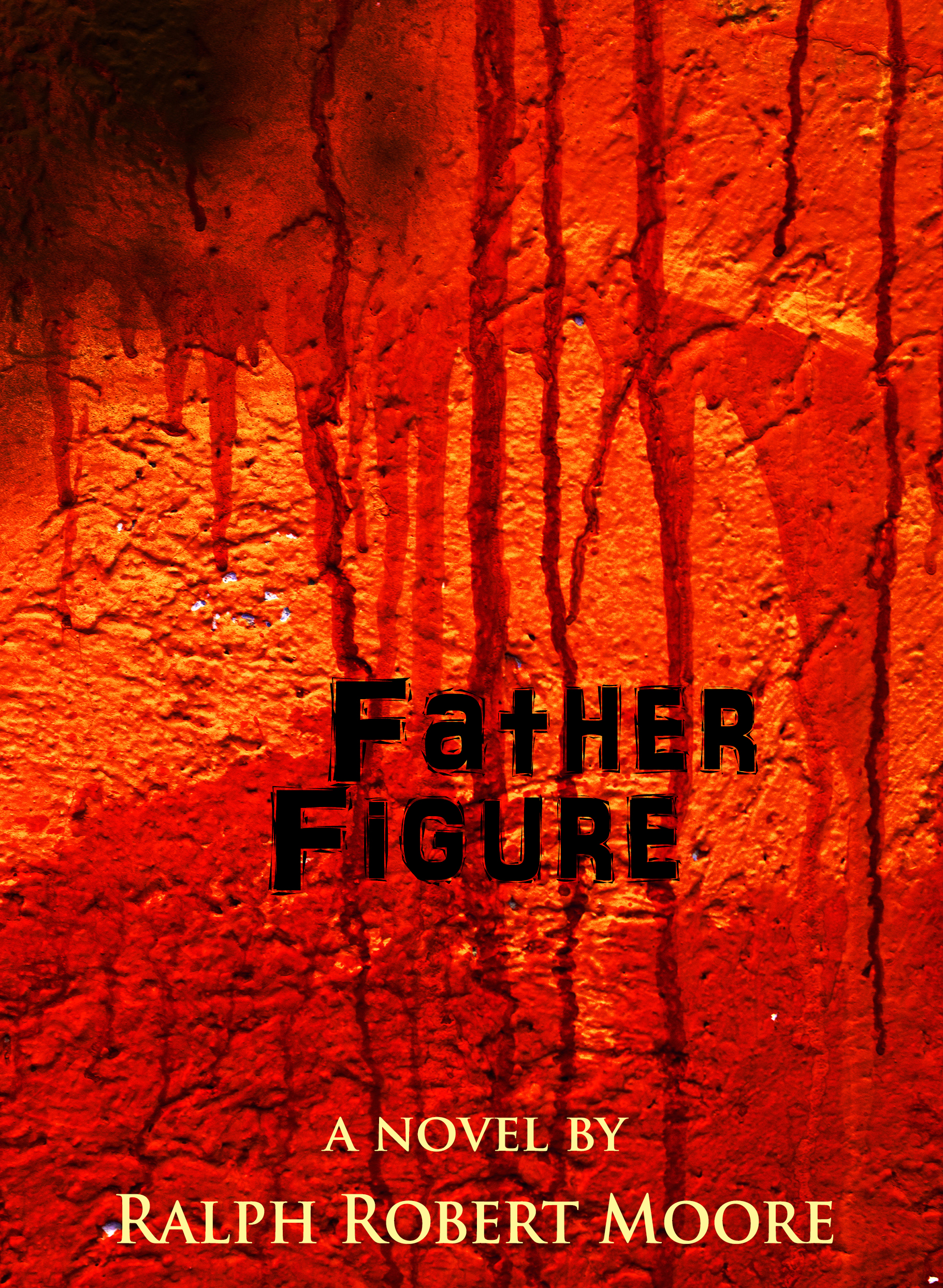 The full text of Father Figure is now available in new trade paperback and Kindle editions, with a 2015 Author's Preface, and an appendix which includes 6,000 words in deleted scenes.
Father Figure is also available at all other Amazon sites worldwide, and additional online venues. 175,000 words, plus 6,000 words of deleted scenes.
South of Anchorage, accessible only from a mud-rutted road off Seward Highway, lies the town of Lodgepole. After midnight, among the blueberry bushes of White Birch Park, a man climbs on top of a woman and begins making love to her. As her orgasm rises he puts his hands around her throat, shutting off her air. She struggles, not to stop him, but to stop herself from trying instinctively to pull his hands off her throat. As the top joints of his thumb meet at the front of her throat she comes, her cry of orgasm ricocheting around inside her forever.
Daryl Putnam, handsome, bookish, wakes up from a nightmare and decides to do something he hasn't done in years. Take a walk outside at night. Down in the park, at the lime green shores of Little Muncho Lake, he comes across the body of the strangled woman.
The next morning, at the coffee shop of the hospital where he works, Daryl meets Sally, a pretty, dark-haired girl. He's intelligent, she's outgoing. What they have in common is both are living lonely lives. Until today.
Also in the hospital coffee shop, shaking half a can of black pepper onto his tomato soup, is Sam Rudolph, a fiftyish man with eyes like an angry dog's, who has spent over twenty years quietly manipulating events in Daryl and Sally's lives to have this seemingly chance encounter among the three of them occur.
And who is actually a lot older than fifty.
"It is easy to see why Father Figure has become an underground classic over the years. It is a dark, extremely disturbing but completely gripping suspense thriller with a strongly erotic subtext...Moore is an extremely talented writer with a gift for pushing the reader's emotional buttons...certainly liable to become a cult classic, and deservedly so."
From an editorial review
"Immensely readable and informed by a lucid intelligence, Father Figure belongs up there with the likes of Delany's The Mad Man, Bataille's Story of the Eye, Sade's oeuvre, The Story of O, and other works of transgressive literature that challenge our assumptions as what is normal and what goes beyond the pale."
Peter Tennant, Black Static magazine
Amazon US Trade Paperback and Kindle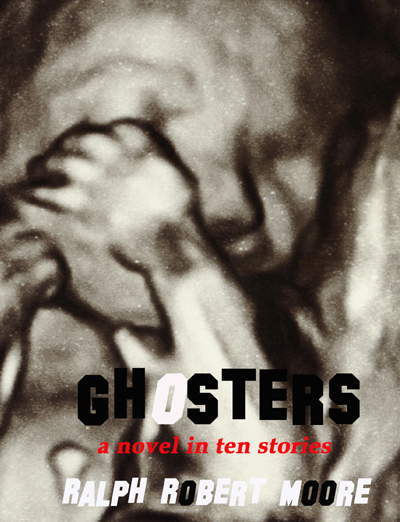 When someone you love dies, are they gone forever?
Meet the Ghosters, and the desperate people who hire them.
In our modern world, only Ghosters know what comes after death. What stays behind. And what dwells between.
Ghosters are a small, loosely-connected group of individuals who travel the highways of America curing people of their hauntings. For as much money as they can negotiate from each client. They are legitimate. But they are not nice.
Amazon US Trade Paperback and Kindle

If you're here, it's probably night. You can see a window from where you sit, and the window is dark. Who really knows what's outside?
I write. If you read, we've just made a connection.
SENTENCE is the forest you fall asleep into.
I created SENTENCE back in 1998 as a way of letting readers know a little bit more about me. Here you'll find about a dozen of my stories, the complete text of my novel Father Figure, essays of mine, videos I've made, photographs I've shot, a decade and a half of my on-line diary entries, some of my favorite recipes, and much, much more. I don't fear plagiarism. Ideas can be stolen-- a simile, a description, a plot, a joke-- but that will happen regardless of the medium in which your luggage is left alone on the airport floor. The truth is, fear of plagiarism is fear of readership. To be plagiarized is never fatal. What is more important is to be read. Because if it's in a box, and no one but you knows about the storms raging through the paragraphs, the footsteps plodding soggily down the sentences, water dripping off the rims of words, that's the biggest shame of all. A fizzle. Because the real achievement of writing is not the writing. The real achievement of writing is someone else reading the writing.
SENTENCE started as an island. Over the years, its accumulated bulk, added to each month, became a continent.
Art is an invitation to go inside someone else's mind. To see our world as they see it. SENTENCE is my mind.
I've been published in America, Canada, England, Ireland, France, India and Australia in a wide variety of genre and literary magazines and anthologies. I've been nominated twice for Best Story of the Year by the British Fantasy Society, in 2013 and 2016. My fiction has been called "graphically morbid". My writings are not for everyone. Are they for you? Find out.
I'm glad you came. I just lit a cigarette. I just made a drink. I hope you enjoy your exploration.
And to see what I'm up to right now, and what currently interests me, visit my

page.


---
Webmaster Ralph Robert Moore at robmary@swbell.net. Entire contents Copyright © 1997-2018 by Ralph Robert Moore, All Rights Reserved.
Established January 1, 1998.
To buy my books, please go to BUY MY BOOKS
To see where I've been published, please go to BIBLIOGRAPHY
For samples of my writing style, please go to WORDS WALKING NUDE
For a complete chronology of site updates, please see HISTORY
Ralph Robert Moore on Facebook
---
"All was chaos, that is, earth, air, water, and fire were mixed together; and out of that bulk a mass formed-- just as cheese is made out of milk-- and worms appeared in it, and these were the angels."
-- Domenico Scandella, 1599 (Two years before being burned at the stake).


it can't be easy being an actor
---
june 1, 2018
There is something comforting about a list.
Whenever over the decades Mary and I would relocate to a new region of America, driving on highways for weeks, pulling down white bedsheets checking for dark bugs, once we decided on a new state we'd usually take a couple of months off to get to know the area, become a part of it, dining in the neighborhood restaurants, learning how the natives pronounced different words, shopping at the local supermarkets, driving around the streets, attending annual festivals in local parks, auditoriums, church parking lots.
We'd always find something wonderful we had never seen before. A frozen cow's head (it's surprising how large they are-it takes two hands to lift them out of the bin, rotate their heavy heads, holding them by their cold ears, so their blind eyes stare up at you); dead ducks hanging from their pierced limp necks on hooks, defeathered and preserved with soy sauce; thin blood on halibut steaks fresh off fishing boats bobbing outside the shop; big orange bags of live crawfish lifting their tiny red claws through the mesh; moussaka made with sliced potatoes rather than eggplant.
America is so wide. We should always indulge ourselves. Never order the least expensive appetizer on a menu. That's just so wrong.
After we spent a couple of months taking it easy in our most recent new home, waking up when we wanted, rolling sausages around in skillets, watching them brown, frying eggs, staying up late watching movies, fixing drinks, smoking pot, we'd get serious about looking for jobs. Because everyone needs to have a job.
And the queer thing was, each new area we moved to, where we eventually found work was always-always-at a building we never paid any attention to that we just happened to pass several times a week buying food, or going to a Blockbuster to rent more movies, or a dentist's office because we had a toothache, or a library to check out stacks of books once we were granted a library card for our new town after proving our residency with utility bills sent to our new local address.
We were passing by our soon-to-be jobs, which is to say our future, repeatedly, without realizing it.
A pattern.
I love patterns.
We may not understand patterns, their significance, but to me it's enough that we at least become aware of their nose under the tent of our day-to-day lives.
Nothing is chaos. Everything is ordered. It's just that we don't perceive the order. Chaos Theory should really be called Complexity Theory.
Mary and I have ten TV shows we watch over and over, one episode a day (except that since The Office is usually a half hour show, we'd watch two episodes a day).
In this order:
Dexter
Breaking Bad
The Sopranos
Six Feet Under
The Office (U.S., up to where Michael leaves the show)
True Blood
Banshee
Fargo
Quarry
Mad Men

To us, these are the ten best TV series produced so far.
Since all these shows combined (with two episodes of The Office each day) come out to 626 hours, that means that we return to each of the ten show's episodes about once every two years. Like a planet orbiting the sun from a farther distance than our Earth, roughly equivalent to the time it takes Mars to go around the sun. Which is a nice frequency rate. By then, we've forgotten some of each episode's details, but still remember great scenes about to be re-experienced.
After rewatching our shows so many times, we have noticed a pattern.
There's a crossover of actors from one TV series to another among the ten shows.
The most obvious example is Michael C. Hall. He appears in both Six Feet Under and Dexter.
But there's a wide array of cross-overs that are far less obvious.
Dean Norris, for example, is probably best known for playing DEA agent Hank Schrader in Breaking Bad. But he also played Detective Shea in the first season of Six Feet Under, and Leon, a driver, in the second season of True Blood.
Colin Hanks was a priest on Mad Men, a police officer on Fargo, and a serial killer on Dexter.
Are you beginning to understand what I'm talking about?
Over time, I collected a partial list of actors who appeared on one of our ten shows, searching on IMDB to see if they also appeared on any other of our ten shows. And a surprising number of them did.
Because there are hundreds and hundreds of actors on these ten shows, easily over a thousand total, I've just barely 'scratched the surface'. Each day, I'm discovering a new crossover.
Of the ten shows we watch, so far Six Feet Under has the most crossovers, with nine actors appearing both on Six Feet Under and at least one other series in the ten shows. Quarry has the least crossovers, with only one (but in fairness, the show only lasted one eight-episode season).
The actors tied with the most crossovers (three shows each), are Colin Hanks, Dean Morris, and Bob Odenkirk.
The most unusual crossover has got to be Joseph R. Gannasoli, who played two different characters on the same show, The Sopranos. He was Jimmy Altieri, a bakery shop customer in season 1, with a brief walk-on role, then came back in the later seasons as Vito Spatafore, a member of the Sopranos crime family whose secret gay life is discovered, and then has to flee New Jersey.
In researching this list on IMDB, I've checked about one hundred actors' careers so far, scrolling down through their TV and movie appearances for crossovers. That in itself is a fascinating experience, seeing some of them getting more and more roles over the years, the decades, and some of them fewer and fewer jobs. Sometimes, years passing between assignments.
It can't be easy being an actor. Being someone who is not you. Over and over again.
Here's my list of actor crossovers so far:
DEXTER
Michael C. Hall/Dexter Morgan/Serial Killer
Six Feet Under/David Fisher/Funeral Director
Erik King/Sgt. Doakes/Police Sergeant
Banshee/Dr. Tim Hubbard/Psychologist/Season 4>
Keith Carradine/Special Agent Frank Lundy/FBI agent/Seasons 2 and 4
Fargo, Season 1/Lou Solverson/Retired cop, diner owner
Colin Hanks/Travis Marshall/Serial Killer/Season 6
Fargo/Gus Grimly/Police Officer/Season 1
Mad Men/Father John Gill/Priest/Season 2
Steve Stapenhorst/unnamed/Instructional video narrator/Season 6
Mad Men/Hunt Schilling/Client/Season 2
BREAKING BAD
Anna Gunn/Skyler White/Wife
Six Feet Under/Madeline/Nate's love interest/Season 4
Dean Norris/Hank Schrader/DEA Agent
Six Feet Under/Detective Shea/Detective/Season 1
True Blood/Leon/Driver/Season 2
Bob Odenkirk/Saul Goodman/Attorney
Fargo season 1/Bill Oswalt/Police officer
The Office/Mark/Real estate company manager/Season 9
Jesse Plemons/Todd/Criminal
Fargo/Ed Blumquist/Butcher/Season 2
THE SOPRANOS
Michael Imperioli/Christopher Moltisanti/Mobster
The Office/Sensei Billy/Sensei/Season 9
Matt Servino/Dwight Harris/FBI Agent
Banshee/Brock Lotus/Sheriff's Deputy
Edoardo Ballerini/Corky Caporale/Liaison for contract killers
Quarry/Karl/Hit Man
Paul Schulze/Father Phil Intintola/Priest
Mad Men/Unnamed/Hobo/Season 1
Joseph R. Gannasoli/Vito Spatafore/Mobster
The Sopranos/Jimmy Altieri/Bakery Customer/Season 1
SIX FEET UNDER
Michael C. Hall/David Fisher/Funeral Director
Dexter/Dexter Morgan/Serial Killer
Peter Macdissi/Olivier Castro-Staal/Art Teacher
True Blood/Luis Patino/Vampire/Season 4
Kathy Bates/Bettina/Ruth's Friend
The Office/Jo Bennett/Business owner
Rainn Wilson/Arthur Martin/Funeral home intern
The Office/Dwight Shrute/Salesman
Anna Gunn/Madeline/One night stand/Season 4
Breaking Bad/Skylar White/Wife
Jenna Fischer/Sharon Kinney/Girlfriend/Season 5
The Office/Pam Beesly/Receptionist
Dean Norris/Detective Shea/Detective/Season 1
Breaking Bad/ Hank Schrader/DEA Agent
Anne Dudek/Allison Williman/Daughter of deceased serial killer/Season 3
Mad Men/Francine Hanson/Next door neighbor
Ed Begley, Jr./Hiram Gunderson/Ruth's lover
The Office/Unnamed/Erin's father/Season 9
THE OFFICE
Jenna Fischer/Pam Beesly/Receptionist
Six Feet Under/Sharon Kinney/Girlfriend/Season 5
Rainn Wilson/Dwight Shrute/Salesman
Six Feet Under/Arthur Martin/Funeral Home Intern
Kathy Bates/Jo Bennett/Business Owner
Six Feet Under/Bettina/Ruth's Friend
Michael Imperioli/Sensei Billy/Season 9
The Sopranos/Christopher Moltisanti/Mobster
Bob Odenkirk/Mark/Real estate company manager/Season 9
Breaking Bad/Saul Goodman/Attorney
Fargo/Bill Oswalt/Police officer/Season 1
Ed Begley, Jr./Unnamed/Erin's father/Season 9
Six Feet Under/Hiram Gunderson/Ruth's lover
TRUE BLOOD
Peter Macdissi/Luis Patino/Vampire/Season 4
Six Feet Under/Olivier Castro-Staal/Art Teacher
Stephen Root/Eddie Gauthier/Vampire
Fargo/Burt Canton/Dentist/Season 1
Zeljko Ivanek/Magister/Vampire
Banshee/Jim Racine/FBI Agent
Dean Norris/Leon/Driver/Season 2
Breaking Bad/Hank Schrader/DEA Agent
Six Feet Under/ Detective Shea/Detective/Season 1
BANSHEE
Matt Servino/Brock Lotus/Sheriff's deputy
The Sopranos/Dwight Harris/FBI agent
Erik King/Dr. Tim Hubbard/Psychologist/Season 4
Dexter/Sgt. Doakes/Police sergeant
Zeljko Ivanek/Jim Racine/FBI agent
True Blood/Magister/Vampire
FARGO
Keith Carradine/Lou Solverson/Retired cop, diner owner/Season 1
Dexter/Special Agent Frank Lundy/FBI agent/Seasons 2 and 4
Colin Hanks/Gus Grimly/Police officer/Season 1
Dexter/Travis Marshall/Serial killer/Season 6
Mad Men/Father John Gill/Priest/Season 2
Bob Odenkirk/Bill Oswalt/Police Officer/Season 1
Breaking Bad/Saul Goodman/Attorney
Brian Markinson/Bruce Gold/Crooked businessman/Season 1
Mad Men/Dr. Arnold Rosen/Physician
Stephen Root/Burt Canton/Dentist/Season 1
True Blood/ Eddie Gauthier/Vampire
Jesse Plemons/Ed Blumquist/Butcher/Season 2
Breaking Bad/Todd/Criminal
Ray Wise/Fargo/Paul Marrane/Mysterious stranger/Season 3
Mad Men/Ed Baxter/Ken Cosgrove's father-in-law
QUARRY
Edoardo Ballerini/Karl/Hit Man
The Sopranos/Corky Caporale/Liaison for Contract Killers
MAD MEN
Colin Hanks/Father John Gill/Priest/Season 2
Fargo/Gus Grimly/Police officer/Season 1
Dexter/Travis Marshall/Serial killer/Season 6
Brian Markinson/Dr. Arnold Rosen/Physician
Fargo/Bruce Gold/Crooked businessman/Season 1
Anne Dudek/Francine Hanson/Next door neighbor
Six Feet Under/Allison Williman/Daughter of deceased serial killer/Season 3
Ray Wise/Ed Baxter/Ken Cosgrove's father-in-law
Fargo/Paul Marrane/Mysterious stranger/Season 3
Steve Stapenhorst/Hunt Schilling/Client/Season 2
Dexter/unnamed/Instructional video narrator/Season 6
I can't tell you how much I enjoy researching this pattern each day. It's a comforting hobby. And shouldn't all hobbies be comforting?


A new Lately is published the first of each month. To print this Lately, please go here. To read previous Latelys, please go here.